DELICIOUSLY DIFFERENT DIGESTIFS TO ENJOY CHILLED
A range of delicious digestifs that are perfect for after dinner drinking this summer.

—NEW STAMBECCO TIRAMISU —
Stambecco Tiramisu has a delicious flavour of mascarpone, amaretti biscuits, cocoa and coffee. Master Distillers, Beppe Ronco and Denis Muni have created this liqueur in honour of Tiramisu, the traditional Italian dessert, known and loved around the world. The word Tiramisu translates as "Cheer you up!". Stambecco Tiramisu
is made with 100% natural ingredients including Espresso coffee extracts from local suppliers in the Torino area, which is known as the capital of Italian coffee.
RRP: £24.99 for 70cl. ABV: 24%. Available from Amazon.
— STAMBECCO AMARO —
Stambecco Amaro is crafted in Italy and infused with maraschino cherries plus 30 traditional botanicals, to create a bitter sweet Amaro Liqueur. The herbal liqueur is infused with herbs and spices including sweet & bitter oranges, coriander seeds, marjoram, oregano, wormwood (also known as artemisia blend), cinnamon, cloves and nutmeg. Stambecco is perfectly balanced and the smooth and fruity spirit is perfect over ice or chilled.
RRP: £25 for 70cl. ABV: 35%. Available from: Amazon, The Whisky Exchange and Master of Malt
— ADRIATICO AMARETTOS —
Adriatico Amarettos are a range of Roasted and Bianco Amarettos, made from handpicked Italian almonds from Puglia. These premium Amarettos are also Gluten Free and Vegan Certified. Adriatico is the only Vegan amaretto in the world as the range is lactose free and it is one of the only 100% natural amarettos as it is made from real almonds. Best enjoyed on the rocks or chilled after dinner.
Adriatico Amaretto Roasted. RRP £28.99 for 70cl. ABV 28%. Available from: Amazon, Harvey Nichols, Master of Malt, The Whisky Exchange, The Drinks Shop and Eataly
Adriatico Amaretto Bianco. RRP £28.99 for 70cl. ABV 16%. Available from: Amazon, Harvey Nichols, The Whisky Exchange , Master of Malt, The Drinks Shop and Eataly
— SHANKY'S WHIP —
If you're looking for something different to drink after dinner, Shanky's Whip won't disappoint. A smooth, black Whiskey liqueur based on a combination of Irish spirits and aged pot still whiskey, blended with the natural flavour of vanilla and infused caramel. The resulting spirit is black and smooth with a rich, whippy flavour dominated by spicy Irish Whiskey. It is delicious served on its own or over ice.

RRP: £24 for 70cl. ABV: 33%. Available from: Amazon and Master of Malt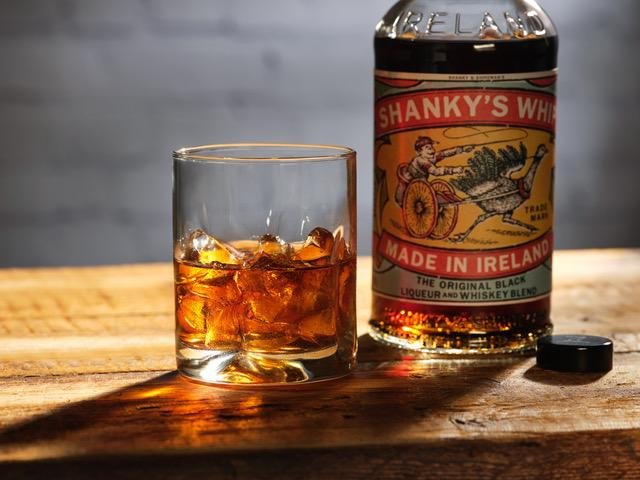 Further information