Cyprus' property market is ripe for investment
When picturing the dream Mediterranean destination, it's hard to top Cyprus for its natural beauty, local culture and accessible location. With hundreds of miles of shimmering coastline, picturesque rural scenes, lively towns and beautiful architecture, the island has long been a preferred place for property investment.
Cyprus' popularity is reflected in the strength of its sales performance. According to a report from Cyprus Sotheby's International Realty, there has been a 30% year-on-year increase in the volume of residential property sales. In some areas of the island such as Limassol and Pafos, the sales increase reached 40% and 58% respectively. Sales to foreign buyers are particularly successful, increasing 61% in total.
Some are drawn to Cyprus as a holiday destination, either for their own escapes or to invest in short-term buy-to-let properties to rent out. However, many are also looking for permanent residences, including retirement spots.
"Cyprus is special for a number of reasons", says Anastasia Yianni, CEO of Cyprus Sotheby's International Realty. "It is an immensely beautiful place to live, with unrivalled access to nature and good weather all year round, but investors also value its location."
With easy access to Europe, Africa and the Middle East, Cyprus' location makes it a key draw for buyers looking for a base for their international business or travel needs. Boating enthusiasts and yacht owners have long treasured the island's central location, while the Cyprus' international airport makes rapid transit possible throughout the year.
"Over the past few years we've seen Cyprus' property market expand enormously, despite global economic headwinds," says Yianni. "We see buyers from all over the world looking to invest here, especially Europeans. It remains a very popular market". For Europeans, Cyprus is an island paradise, conveniently within easy reach of both their home countries and Middle Eastern powerhouses such as Dubai and Tel Aviv. Middle Eastern buyers value the access to Europe that the island provides, while also allowing them to reach anywhere in the Middle East in a moment's notice.
One of the biggest draws to the real estate market in Cyprus is the country's permanent residency program. Buyers that invest over €300,000 are able to receive a Permanent Residency in under 60 days. From there, investors can go on to citizenship if they live in Cyprus. Thanks to Cyprus' EU membership, becoming a citizen of Cyprus also confers the benefits of being a citizen of the EU.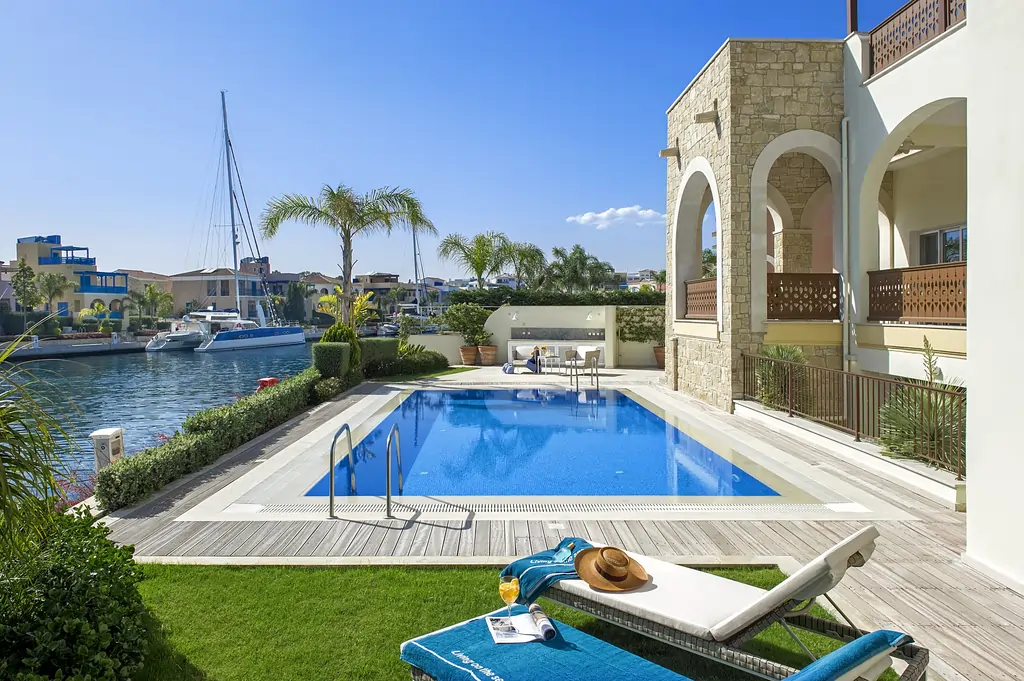 "Obviously this is an extremely attractive offering for investors from non-EU member countries', explains Yianni. "In particular, British buyers recently deprived of EU membership are increasingly looking to regain these advantages by investing in property in Cyprus".
Location alone, does not fully encompass the appeal of Cyprus to international investors. Cyprus' homes are also renowned globally for their luxury appeal, frequently kitted out with the most in-demand features on the market. Home designs range from traditional Cycladic styles – the whitewashed walls and blocky forms that has become emblematic of Mediterranean homes – to more contemporary designs, making use of cutting edge architectural trends.
Many of these more contemporary homes are fully integrated with top-of-the-line smart home technology. Yianni explains the appeal of these features to Cyprus' investors: "buyers are expecting greater levels of connectivity. Smart homes offer fine-tuned temperature control and options for remote security, both of which are highly valued by international investors".
Undoubtedly, with these recent technological advancements, as well as the continued appeal of the island's quality of life and possibility of an EU membership, the market is ripe for forward-thinking international buyers. "Our island is a truly magical place, with some of the best options for luxury property in the Mediterranean", Yianni explains.