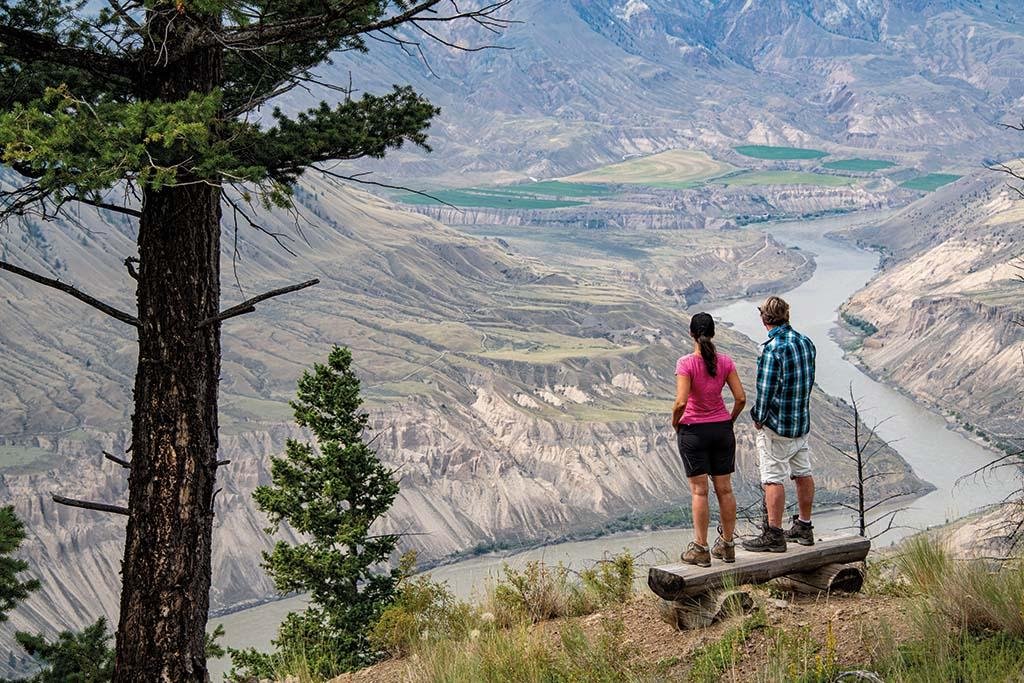 While everyone's world was turned upside down over the last two years, one thing became truer than ever – connecting with nature is a powerful catalyst for rest and restoration. The craving for authentic and sustainable connections to Mother Earth is at an all-time high right now, and one of the best places to find such connections is Echo Valley Ranch & Spa in the heart of British Columbia's Cariboo Region.
An oasis sitting at the convergence of four iconic geographic regions – Marble Mountains, Fraser River and Canyon, Cariboo Plateau, and Cariboo Grasslands – Echo Valley Ranch & Spa is a small eco-luxury ranch offering meaningful experiences to mindful adventure seekers. The ranch was preparing to celebrate its 25th anniversary in 2020 when the pandemic brought their plans to a halt. Owners Norm and Nan Dove decided together with their team to remain closed during 2020 and use this time to refresh and redefine their operation, doubling down on their commitment to sustainability and superb guest experiences.
Echo Valley Ranch, home to Norm and Nan, is a multicultural haven, combining great food with exhilaration and relaxation since 1995. Following the 2020 hiatus, the re-opening featured the new all-inclusive Signature Experience and a Sustainable Tourism 2030 gold certification. Echo Valley has taken the Sustainable Tourism 2030 Pledge, committing to continually improving the sustainability performance of their operation between now and 2030.
Farm-fresh cuisine has always been a staple at Echo Valley, and the ranch now features a vegetable garden that has doubled in size, as well as a restored root cellar, which was part of the original homestead. During the summer, the chef and his team grow, harvest, and prepare vegetables in all colours of the rainbow, while seeds and preserved produce are kept in the root cellar over the winter months. The ranch's apples trees and berry patches are a guest (and staff) favourite for a sweet taste of the delicious desserts that follow. The chickens and 6-year-old resident pig make sure that the ranch kitchen continues to be a zero-waste operation.
Signature style
With the new Signature Experience also came new adventure and wellness activities, designed to highlight the peace and natural tranquillity of Echo Valley. A reimagined horsemanship programme – Horse Harmony – puts an emphasis on the connection between horses and people, which has long been the stuff of legends. Guests become fully immersed in this activity, bringing the horses in from the pasture, connecting with a horse by grooming and saddling, followed by a short ride through the nearby woods.
The new Survival Spirit activity has quickly become a firm favourite. This creative and informative half-day adventure may come in handy one day, or night! A quick introduction is followed by a search for water and identifying edible plants, as well as building a shelter and making fire.
With survival skills learnt and well honed it's time to relax again. Ask the staff what their favourite activities are, and it's a tie between simply watching an amazing sunrise or sunset, and the new meditation path and space at Copper Drop Springs. A connection to oneself and to nature comes easy during a contemplative walk while listening to the soothing sound of a natural spring. Thai monk, Luangphor Viriyang Sirintharo travelled to Echo Valley almost twenty years ago to bless their Baan Thai Building, and said that Echo Valley is the perfect place to meditate as everything is in balance here.
The iconic location at the convergence of four geographic regions makes an extraordinary amount of adventure and wellness activities possible, from hiking majestic peaks to thrilling mountain bike rides through the boreal forest, to soaking in the breathtaking views of the Fraser Canyon. The Canyon Connection Tour will help you rediscover your long lost sense of wonder. Descending into the Fraser Canyon (also known as the Grand Canyon of the North) a 1,000-metre drop at a 23% grade is the talk of the ranch around the campfire at night. And you can decide whether the view into the canyon from Cougar Point Lookout, or up the steep canyon while resting on a white sandy beach to the roar of the Fraser River is more breathtaking.
Whether you're looking to rest, relax, and rejuvenate, or fuel your emotional, physical, and spiritual needs – Echo Valley Ranch & Spa is a must-visit destination. It's a vacation that will change the way you view and experience life.
The best months to visit are from June to September and this thoughtfully designed eco-luxury ranch welcomes guests of 13 years and older to reconnect with nature and be inspired. The Echo Valley Team is looking forward to welcoming you to their home – where supreme comfort and the glory of nature are as one.
For further information:
www.evranch.com
info@evranch.com