With a long-standing reputation as a symbol of luxury, the freestanding bath acts as a statement centrepiece and often ties a whole bathroom design scheme together. Offering an exclusive range of handcrafted freestanding baths, the exquisite collection from leading bathing specialists Clearwater, features designs from traditional roll-tops to contemporary profiles which are guaranteed to offer homeowners and interior designers the versatility of choice and style.
With design and quality held at very core of the brand, each bath is meticulously crafted to deliver a unique, hard-wearing and scratch resistant product. From the high-backed shape of the modern Nebbia and the traditional Romano baths, designed to provide the ultimate relaxation space, to the elegant seamless leg feature on the Vigore and Lonio designs, each and every bath is guaranteed to add a spa-like feel to the bathroom providing the perfect place for self-care and wellness.
With a range of contemporary and traditional styles that work in an array of interior schemes, Clearwater offers homeowners and designers a versatile and stunning choice. For a statement focal point to admire opt for the low profile of the Lacrima, or choose the high-shine Bathazar bath with its beautifully designed chrome exterior, which is also available in white, for a luxurious centrepiece in any home. The more classic structure of the Classico bath, with its roll-top edge and polished ornate feet, has been created to offer homeowners and designers a truly traditional look.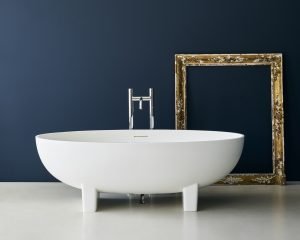 Whether complementing a grand and traditional bathroom suite or acting as a contemporary centrepiece in a sleek and luxurious bathroom, the freestanding bath collection from Clearwater offers the ideal bath suitable for any interior space. 
PRICES
1. Nebbia bath £2,799.00
2. Lonio bath £2,799.00
3. Romano bath £2,058.00
4. & 5. Vigore bath £2,799.00
6. & 7. Lacrima bath £2,799.00
8. Balthazar bath in chrome £4,899.00
9. Classico bath £2,068.00
For more information visit: www.clearwaterbaths.com
For more Lifestyle stories follow The Luxury Report.