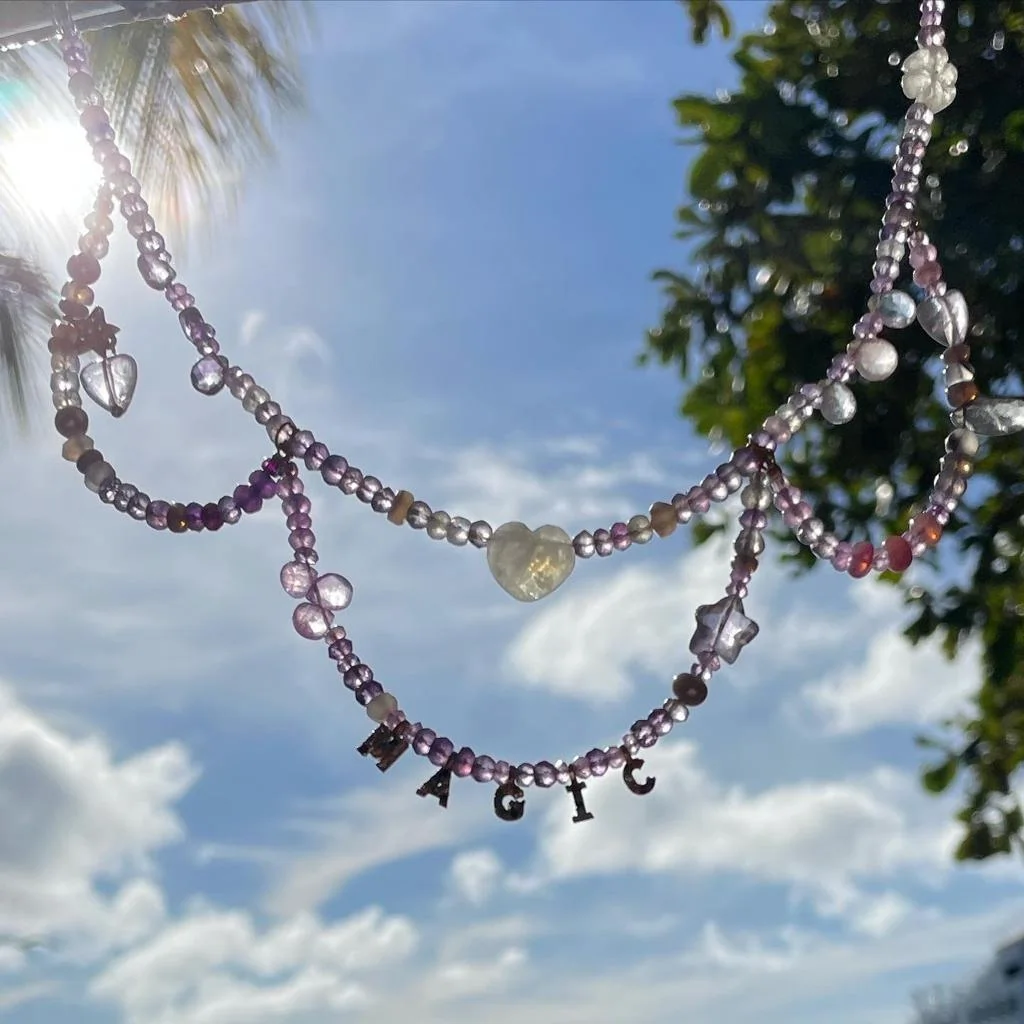 For beautiful handmade, bespoke, sustainable yet affordable jewellery, look no further than Clarke Palmer!
Perfect right now for beach and festival jewellery and those thinking ahead to Christmas, the most beautiful unique gifts made to order and your specs that won't cost you or the Earth.
Clarke Palmer is a sustainable jewellery brand founded by Creative Director Jenny Palmer, specialising in ethically sourced precious and semi-precious jewellery. Featuring an array of hand-cut stones from rubies and sapphires to opals and ammonite, Clarke Palmer's necklace, bracelet and earring designs are strictly made to order in order to eliminate wastage, with an aesthetic and ethos that leans on the holistic healing traditions of such stones.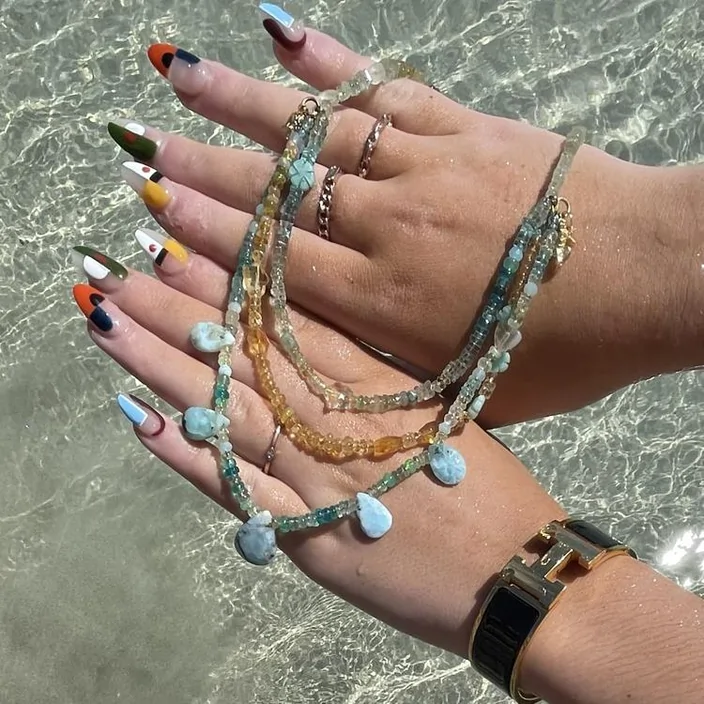 "When I was small I used to lose myself in my mother's jewellery boxes which she kept in the drawers of her walnut wood dressing table. I always loved to hear the story of my Grandmother's opal ring which was given to her on the occasion of my Mother's birth in October 1930. My Grandfather has run to Hatton Garden, got a bag pf beautiful oval opal cabochons and he brought them to Gladys and emptied them on her lap and asked her to choose one for a ring." – Jenny Palmer –
Foremost among Clarke Palmer's designs are the 'Everything Necklaces', which are layered chandelier styles inspired by Jenny's love of costume dramas, while the single-strand necklaces are beautiful bespoke options that can be worn individually or stacked. Front and centre this season is the Summer Dreams Collection, which includes the exotic and intense floral shades of Peony Pink, Rose Bud Pink, Sunflower Orange, Yellow, Palm Green, Delphinium Blue and Lilac, all set against an ombre background of crystalline blues ranging from ultramarine through azure to turquoise.
Sustainability and Ethical Jewellery Design
Clarke Palmer takes incredible care when sourcing all of their materials. The precious and semi-precious stones are purchased from a trusted independent company in Aylesbury who imports from one family business in a village just outside Jaipur (the head of the family, one "Mr. T", has subsequently built a Sikh temple in his village for some of the proceeds). Not only does the brand make-to-order to minimise wastage, Clarke Palmer also reuses and recycles vintage jewellery, too, as well as using recyclable packaging.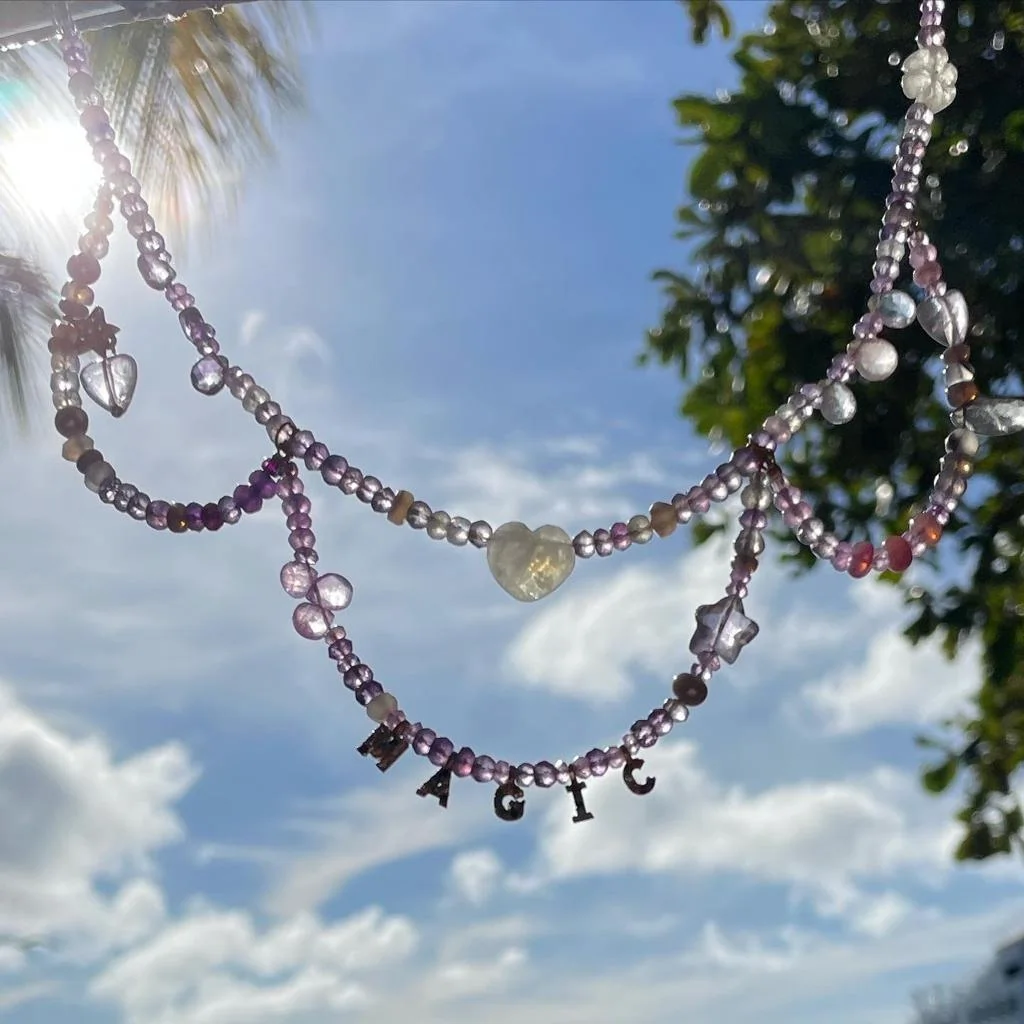 About Jenny Palmer
Jenny Palmer is the founder and Creative Director of Clarke Palmer, which is run from Surrey UK. The brand's name is a portmanteau of Jenny's Grandfathers Sydney Clarke and Sydney Palmer and was launched as such to honour her family. Ever since she graduated with a Fine Art degree specialising in photography, Jenny has worked in fashion for the best part of her career, first as a fashion photographer's agent in the Kings Road, then at Harpers before becoming Fashion Editor at Marie Claire, Sunday Times and the Evening Standard. Her love of travel took her to the Caribbean on a commission by Macmillan to photograph a series of books on St Lucia and The Cayman Island. Determined to combine her passion for jewellery, sustainability and creativity, she launched Clarke Palmer in July 2020
Further information
Clarke Palmers Jewellery | @clarke_x_palmer | @clarkepalmerjewellery