Wembley Park unveils 'Equilibrium', a new, free, public art exhibition by female artists to mark International Women's Day
Wembley Park has revealed a major new series of public artworks in celebration of International Women's Day. Launching on 8th March 2023, the 'Equilibrium' exhibition will feature the work of international female artists, presenting explorations of balance, unity, harmony and equality.
The hugely popular free, outdoor Wembley Park art trail has a reputation for exploring important issues. Previous exhibitions have included The Pineapple Award-nominated 'Figures of Change' marking International Women's Day in 2022 and 'Visions of Home' – works by Ukrainian artists delivering a powerful homage to their homeland.
The new 'Equilibrium' exhibition has been curated by an all-female team at London-based multidisciplinary studio Acrylicize. The installations span four key locations: the Spanish Steps between Arena Square and Wembley Stadium, an outdoor photography exhibition in Market Square, digital screens on the Bobby Moore Bridge, Olympic Way and White Horse Square and three red telephone boxes by the Grade II listed OVO Arena Wembley.
The centrepiece is 'Steps for Change' – a digital design on graphic vinyl on the Spanish Steps. A bespoke installation by Acrylicize, 'Steps for Change' connects with the UN's theme for International Women's Day 2023 of 'DigitALL: Innovation and technology for gender equality'. The designs on the stairs convey a sense of balance, while celebrating the power of women in the digital world.
That power is also celebrated by the digital artworks on display in Wembley Park, curated by moving-image artist Zaiba Jabbar. Zaiba has curated a selection of works in a range of forms, rotating the work of three digital artists. The first to be launched is the 'Jelly Experiments' series from digital artist Lucy Hardcastle. 'Jelly Experiments' is a series of experimental digital films inspired by the idea of suspended realities and physical illusions.
For the outdoor photography exhibition in Market Square, eight double-sided lightboxes showcase the work of four artists, exploring themes of contemporary feminine identity and culture:
Photographer Tayo Dekunle explores the commodification, fetishization and sexualisation of Black women's bodies.
Creative Chi Chi Maté Langlah's celebrates Black hair, sisterhood, powerful symbolism and unity.
Spanish fine art/conceptual photographer Fares Micue explores issues of belonging, unity, balance and conscious choice.
Wembley-based photographer Yasmin Jama explores the juxtaposition and layering of Western and cultural identity.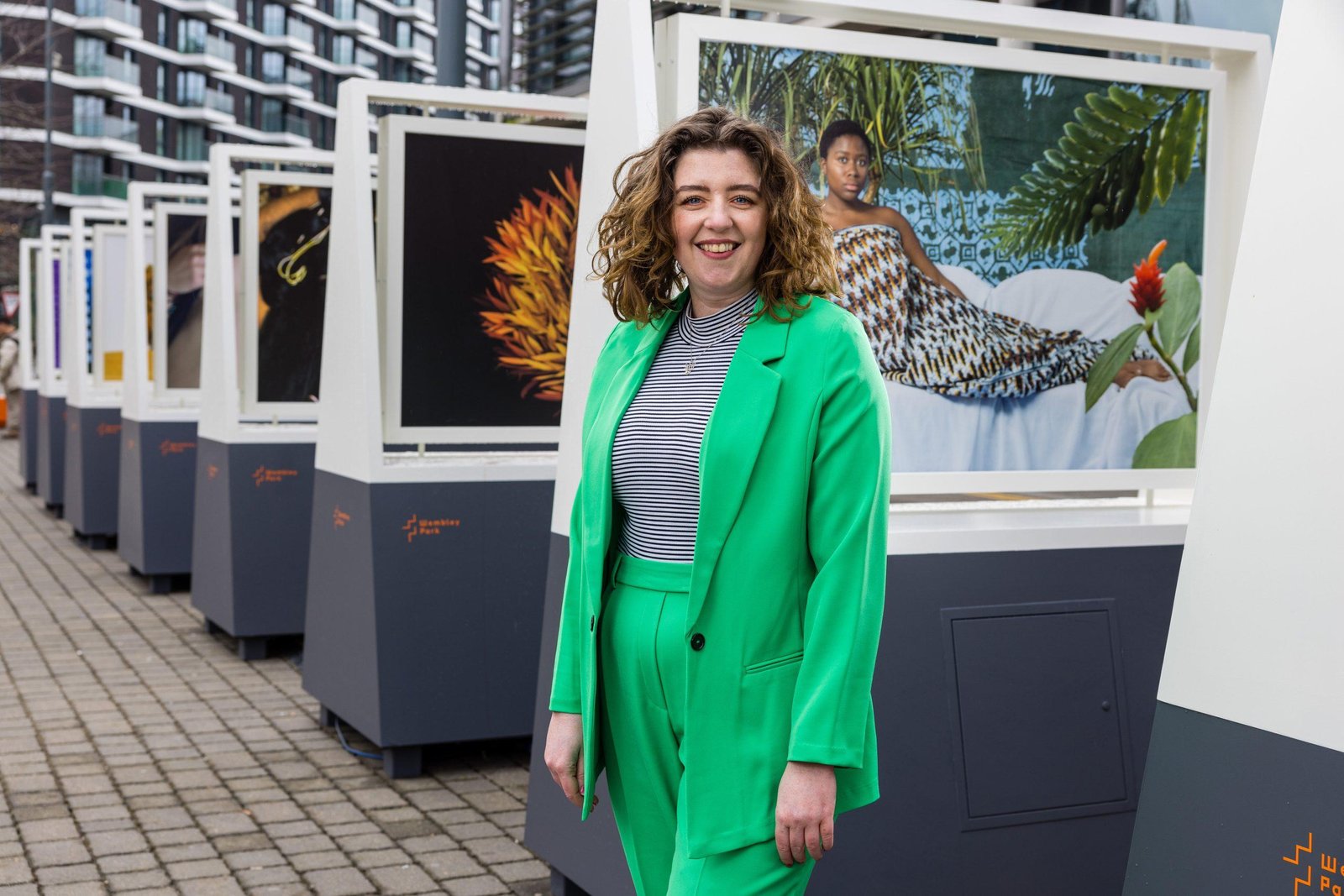 For the Arena Square phone boxes, London artist Fiona Grady has delivered the site-specific 'Sun-Kissed 2023' vinyl installation, using rhythmic patterns of interchanging shapes and colours to transform the environment with interlocking triangles sitting in equilibrium to one another. Her glowing shapes are composed from warm lemon yellow, tropical orange, rose red and hot pink tones.
Josh McNorton, Cultural Director, Wembley Park comments: "We are thrilled to bring together so many thought-provoking and inspiring artworks to mark International Women's Day through this bold new collection."
Jo McLaughlin, Senior Curator, Acrylicize comments: 'Working alongside and curating the work of so many groundbreaking female artists for Wembley Park's Spring Art Trail has been a privilege. Watching how each has responded to the theme of equilibrium in their own practice has allowed us to build a public art trail filled with moments of curiosity, excitement and intrigue across the entirety of the Spring Trail.'
For more information visit www.wembleypark.com/art , find us on Facebook or follow us on Instagram