Elijah Craig Small Batch Bourbon has successfully hosted its own Old Fashioned Week in the USA for the past three years, and this year the brand will celebrate the quintessential cocktail in the UK from the 13th to 22nd October. Elijah Craig is meticulously crafted to enhance the flavours of the classic cocktail, making it the ideal Bourbon for crafting the perfect Old Fashioned.
Celebrate Old Fashioned Week and Elijah Craig's launch in Waitrose and createthe traditional serve at home. Elijah Craig Small Batch Bourbon is available to purchase online and in 141 Waitrose stores across the UK. If you would prefer to head out for a cocktail in London this Old Fashioned Week, head to The Bling Pig, The Vault at Milroys or The Lexington to enjoy the perfect Elijah Craig Old Fashioned.
Elijah Craig Small Batch is the signature Bourbon bearing the name of Reverend Elijah Craig, who founded his distillery in 1789 along Elkhorn Creek in present day Georgetown, Kentucky. He is credited with being the first distiller to age his whiskey in charred oak barrels, earning his place in history as the Father of Bourbon. Long before the term Small Batch existed, Heaven Hill's Master Distillers were hand-selecting just the right number of barrels to make Elijah Craig. This expertise and attention to detail give Elijah Craig Small Batch the right balance of rich flavour and full body for a warm spice and subtle smoke flavour which complements the sweetness and spiciness of an Old Fashioned.
The Elijah Craig Old Fashioned
50ml Elijah Craig Small Batch Bourbon | 10ml Simple Syrup | 3 Dashes of Bitters | Garnish – 1 Twist of Orange Peel and 1 Cocktail Cherry (optional).
Combine ingredients in a mixing glass with ice. Stir until chilled and strain over a large ice cube. Garnish with a twist of orange.
Tasting Notes
Nose: Delightfully complex with notes of vanilla bean, sweet fruit and fresh mint.
Palate: Smooth and warm, pleasantly woody with accents of spice, smoke and nutmeg.
Finish: Long, sweet and slightly toasty.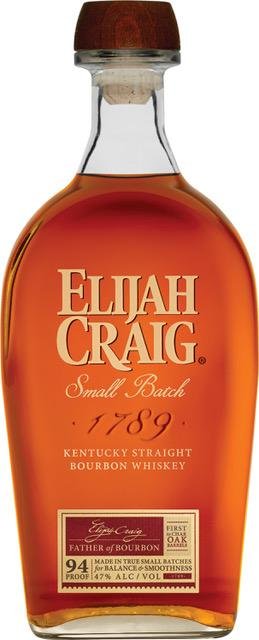 Elijah Craig Small Batch Bourbon RRP: £42 for 70cl bottle. ABV: 47%. Available from Waitrose and 141 stores nationwide.