Moët Hennessy invites you to London Cocktail Week 2023 – 12th-22nd October
London Cocktail Week Opening Party: Exclusive Cocktail Masterclass, With Cocktails at Artesian
12th October 2023 | 4 PM – 1 AM ( MASTERCLASS 5-6 PM)  
What better way to kick off London cocktail week than an amazing night with Möet & Chandon at Artesian? Indulge in The Langham's outstanding hotel bar to enjoy a special selection of Moët cocktails, carefully curated to showcase the versatility of the world renowned champagne. 
Perhaps you want to expand on your cocktail skills before the exciting week commences, so why not join in on an incredible educational session demonstrating how Moët is not only an amazing champagne but also an excellent base for cocktails. The masterclass will showcase how Moët can be paired with a selection of pre batched tinctures which incorporate a range of spirits to highlight the key grape varieties of Moët – Pinot Noir, Meunier and Chardonnay. 
This special night provides a unique insight into the brand and certainly isn't one to be missed!
Artesian, 1C Portland Pl, London W1B 1JA
Bird, Copenhagen Takeover At Nipperkin Bar
13 October 2023 | 8 PM – 12 AM
The newly opened Nipperkin Bar at 20 Berkeley is hosting Copenhagen's Bird for a special evening full of vinyls and cocktails in partnership with Ardbeg on the 13th of October from 8 pm to midnight.
Bird, the cosy neighbourhood Copenhagen bar, is known for its soulful jazz tunes, outstanding vinyl collection and modern takes on classic cocktails, which they will bring to Nipperkin, the intimate speakeasy bar, for one night only! 
Nipperkin and Bird have also worked together to create a special Ardbeg cocktail menu, one of the world's best single malt whisky brands. 
20 Berkeley St, London W1J 8EE
Scandi Takeover Series at Callooh Callay Shoreditch
16th , 17th, 18th, 22nd October 2023 
Join Callooh Callay for a series of epic Scandi takeovers throughout London Cocktail Week. Kicking off with Svanen, Oslo on 16th October, Nimb, Copenhagen on 17th October, Aarhus, Gedulgt on 18th October, closing off with A Bar Called Gemma, Stockholm on 22nd October. 
Hosted in partnership with Glenmorangie, each bar will take over the front room of Callooh Callay Shoreditch and will create a selection of incredible Glenmorangie cocktails which can be enjoyed throughout the evening.
In the back room, Callooh Callay will be serving a host of Glenmorangie highballs throughout London Cocktail Week, giving everybody the opportunity to enjoy this outstanding whisky.
65 Rivington St, London EC2A 3QQ
Moêt & Chandon Pairing Dinner at Little Mercies
16 October 2023 | 7 PM – 10 PM 
North London Gem, Little Mercies, will be hosting an exclusive pairing menu in collaboration with Moët & Chandon on the 16th of October.
This not to be missed event will start with a special introduction and tasting of Moët & Chandon, followed by a delicious three course pairing menu created by founder of Little Mercies, Alan Sherwood.
Each of the delectable dishes have been perfectly paired with a bespoke Moët & Chandon cocktail which has been designed to compliment the dish.
Tickets can be purchased through Resy for £40 per person.
20 Broadway Parade, London N8 9DE
Vinyl & Cocktail Party at Nipperkin Bar
16th October 2023 | 8 PM-12 AM

If you love great music and great cocktails, then this special event from Ardbeg and Nipperkin Bar will be right up your street! 
For one night only on the 16th of October between 8pm and midnight the Nipperkin Bar is offering an opportunity to play your favourite vinyl on their amazing vinyl player whilst enjoying a delicious Ardbeg dram or cocktail. 
Bring your vinyl and dance the night away with friends in this relaxed, speakeasy style bar, giving you the perfect opportunity to catch up and unwind.
20 Berkeley St, London W1J 8EE
Marian Beke Returns to Nightjar Carnaby for One Night Only
16th October 2023 | 7 PM-11 PM 
For one night only, Mr Marian Beke, owner of Old Street's The Gibson Bar, will be going back to his roots for a special takeover at Nightjar Carnaby on the 16th of October between 7pm and 11pm. 
Beke, who was at the helm of Nightjar for many years and was part of the team who launched the much loved London icon, will be working in partnership with Ardbeg to deliver a selection of outstanding cocktails created exclusively for the evening. Alongside these cocktails Nightjar will also be serving a selection of snacks and small plates from its incredible food menu. 
Known for their playful cocktails, late night music and showstopping glassware, Nightjar's events are not to be missed so head down to enjoy a night of incredible cocktails and good vibes with friends!
Kingly Court, 49-51 Carnaby St, London W1F 9PY
Hennessy Eau-De-Vie Masterclass at TT Liquor
17th October 2023 | 2 PM & 4 PM
Delve deep into the art of cognac distillation and discover the meticulous process that produces Hennessy's exquisite Eau-De-Vies. Learn about the intricate steps that contribute to the creation of this exceptional spirit during this exciting and engaging masterclass with Hennessy's Global Trade Advocacy Manager, Jordan Bushell.
Whether you're looking to brush up your knowledge on this old age French spirit or looking to get an insight into some of Hennessy's rarer expressions, this informative and exciting masterclass is not to be missed.
Those looking to carry on the party can join TT Liquor and Hennessy at an exclusive music night, with live DJs and a host of special Hennessy cocktails.
17B Kingsland Rd, London E2 8AA
Orchid, Aberdeen Takeover Fitz's Bar
17th October 2023 | 5 PM -12:30 AM
Enjoy a night at Fitz's Bar, one of London's most glamorous cocktail bars, with Glenmorangie and special guests, Orchid this London Cocktail Week!
For one night only on the 17th of October, Aberdeen bar Orchid will be coming to London to create an outstanding Glenmorangie cocktail menu alongside the renowned team at Fitz's. Not only will Orchid be bringing their talented mixologists but also a slice of its cozy, chic bar to this luxury London institution in the heart of Bloomsbury.
This special takeover is the perfect opportunity to sample one of the world's largest Scotch whiskies and immerse yourself into this world with some of the UK's best mixologists.
1-8 Russell Sq, London WC1B 5BE
The Hideout, Present Company & Filthy XIII Takeover at Murder Inc.
17th October 2023 | 7:30 PM-10 PM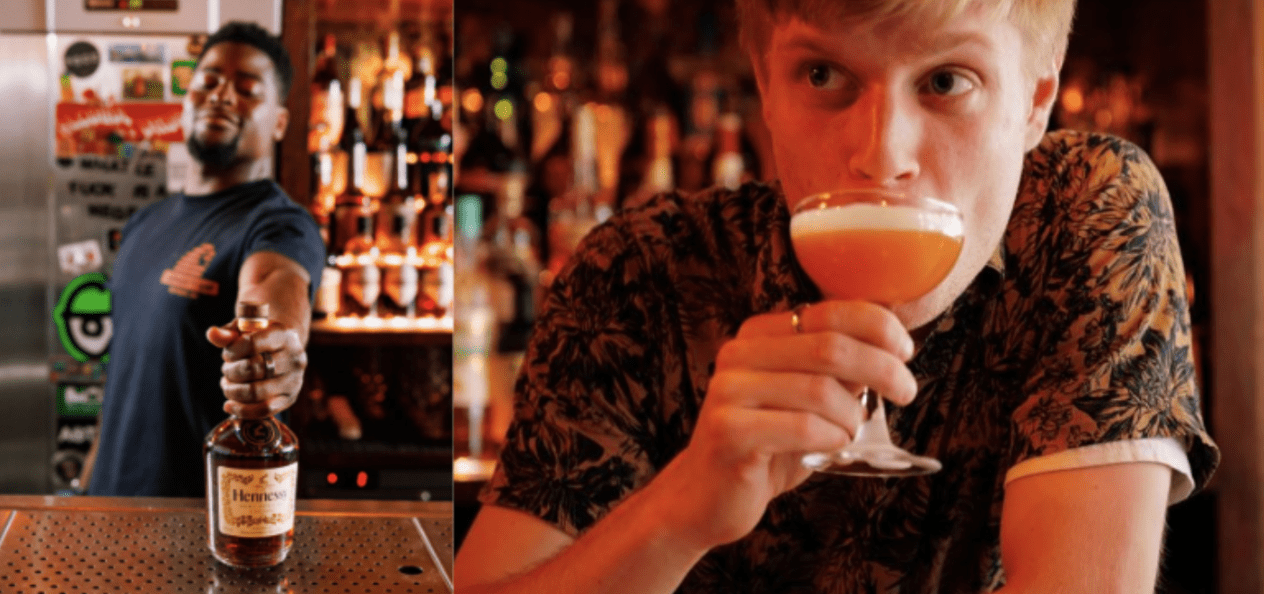 Join Murder Inc. and Hennessy on the 17th October as they host some of the UK's best bars – The Hideout from Bath, Present Company from Liverpool and Filthy XIII from Bristol for a special takeover!
Taking place across one night, the takeover will see each of these incredible bars create a selection of amazing Hennessy cocktails for the evening, showcasing how this outstanding liquid is not only delicious neat, but also in a host of cocktails! 
Each bar will be delivering their individual flare to the drinks menu, incorporating their classic house style of serve with Murder Inc's fun and playful style of cocktails.
A cozy neighbourhood bar in the heart of Soho, Murder Inc is the perfect intimate setting to relax and unwind whilst sipping on cocktails from some of the most talented bartenders in the country.
36 Hanway St, London W1T 1UP
In-depth Ardbeg Masterclass at Niperkin Bar
17th October 2023 | 7 PM – 10 PM
Immerse yourself into the world of one of the biggest producers of single malt whisky with an exclusive Ardbeg masterclass and tasting hosted in Nipperkin's cozy private dining room. This intimate event will explore a selection of Ardbeg's outstanding collection of whiskies from the classic 10 Y/O and An OA to some of it's more unique and limited edition bottlings such as the Bizarre BQ and Heavy Vapours.
This special opportunity to experience some of Ardbeg's finest bottlings is not to be missed!
Tickets can be purchased from Nipperkin's website for £40 per person.
20 Berkeley St, London W1J 8EE
Hennessy Masterclass at TT Liquor
18th – 20th  October 2023 | 6:30 PM – 7:30 PM
Join the team at TT Liquor for an unparalleled journey and immerse yourself into the exceptional world of Hennessy through exclusive masterclasses, cocktails and tastings on 18th, 19th and 20th October.
Delight your senses with a tasting masterclass exploring Hennessy's renowned VS, XO and Pure White expressions. Hosted by Hennessy's Global Trade Advocacy Manager, Jordan Bushell, this exciting session will take you through the nuances, complexity and tasting notes of each blend. Guests will also be welcomed with an outstanding Hennessy cocktail before being treated to a guided tasting of the Hennessy range in TT Liquor's vaults looking at the past, present and future of Hennessy. Whether a cognac connoisseur or not, this an opportunity to brush up on your knowledge or simply sample some of the world's finest cognac.
TT Liquor and Hennessy will also be offering a special cocktail menu, which will be available throughout London Cocktail Week.
Tickets can be purchased from TT Liquor's website for £20 per person.
7B Kingsland Rd, London E2 8AA
London Cocktail Week Closing Party at Seed Library X Rodä Huset
22nd October 2023 | 5 PM – 12 AM
To close off the London Cocktail Week celebrations, Seed Library and Moët & Chandon will be hosting an epic closing party on Sunday 22nd October!
Seed Library's talented team of mixologists, led by none other than Ryan Chetiyawardana aka Mr Lyan, have created a list of bespoke Moët & Chandon cocktails which can be enjoyed whilst soaking up the ambience of this laid-back basement bar in the heart of Shoreditch. 
Not only can the delicious cocktails be enjoyed on their own, but they have also been designed to pair perfectly with a selection of tasty snacks, which in true Seed Library style will include childhood favourites such as delicious hot dogs. 
Special guests Yacht Club, the exclusive private members club, and Sweden's Röda Huset will also be joining the party bringing an elegant twist to Moët & Chandon cocktails which can be enjoyed alongside Seed Library's London Cocktail Week cocktails the delicious Golden 75 – Moët & Chandon, gin, pears, sour London honey and the Champagne Daisy – Moët & Chandon, Glenmorangie 10, custard apple miso and fluffy lemon.
The fun doesn't just stop there, you can also expect excellent beats all night long from a special live DJ. The perfect way to round off the festivities, let's all come together to celebrate and toast to the occasion with Moët & Chandon!
100 Shoreditch High St, London E1 6JQ