Well off the beaten track, the serenity and sheer grandeur of the Kyuquot area on Canada's western coast attracts intrepid travellers from all over the world. Known as the Sea Otter Coast, those who make the journey to this pristine wilderness discover a place that stays with them forever.
West Coast Expeditions are based on Spring Island off the north-west coast of Vancouver Island in British Columbia, and specialise in tailor-made sea kayaking excursions across the region. With West Coast Expeditions you get to experience a remote Pacific island where sea otters are the architects of a diverse marine and forest ecosystem. This stunning wilderness – together with the welcoming Kyuquot-Checleset First Nations people – inspires many to return year after year.
Trip packages include return overland travel from either the Comox Valley or Campbell River on Vancouver Island's east coast. Both communities have airports that are easily accessible from international locations, and are great bases for other outdoor activities in the area. These include wine tours, whale and grizzly bear watching excursions, plus an exceptional network of mountain bike trails.
Get ready
You will be met at your accommodation of choice in the Comox Valley or Campbell River, before travelling overland across Vancouver Island's central mountains to the west coast. You'll then transfer to a water taxi for a scenic one-hour boat ride to the remote base camp on Spring Island on the outer edge of the Mission Group archipelago of islands – this is a stunning journey in itself. Approaching the open west coast waters you'll see sea otters bobbing in the ocean and possibly glimpse a mighty bald eagle surveying from a nearby spruce tree.
Once beyond the shelter of the fjord, the boat weaves through a serene cluster of islands and passes a currently unoccupied Aboriginal village. This was once a key site for the west coast fur trade in North America, but now sits empty, returning to the land. The transition to the outer coast conjures images of days gone by: longhouses skirting the shoreline, dugout cedar canoes lining the beach, and tall ships anchored on the horizon. Guests feel as though they are travelling back in time – being immersed in the rich magic of this wilderness sanctuary.
Your destination, Spring Island, is widely regarded as the perfect place for a sea kayaking adventure. At the outermost point of the Mission Group Islands, the south, west, and north sides of Spring Island feature rugged sea arches and caves, and pebble beaches that face the expansive Pacific Ocean. By contrast, the eastern side offers a tranquil haven of sandy shoreline, skirted by towering moss-laden trees.
Base camp
Nestled in a clearing where forest meets ocean, the West Coast Expeditions base camp hugs the shoreline of Spring Island's largest and most protected bay. This enchanting wilderness retreat features privately-situated safari-style canvas tents – each of which contains snug beds and a host of creature comforts. An on-demand propane-heated shower with waterfront views and a spacious all-weather dining shelter with woodstove are among the many deluxe camping comforts. Inspired by driftwood, even the outhouses are worthy of a photo.
The diverse daily excursions from the comforts of base camp offer a balance between activity and adventure, and pure relaxation amid the surrounding natural beauty. There are a variety of flexible daily itineraries to appeal to all ages and experience levels. Whether it's families, couples, groups or individuals, all enjoy exploring this beautiful area by sea kayak or on foot. The professional guides and camp staff are highly experienced in this environment and renowned for their attention to detail, level of instruction and local knowledge.
You will explore the rugged and serene shorelines with eagles soaring overhead, hear the howls, or even see the tracks of coastal wolves on the beach. There are rich pools with colourful marine life, rafts of 30 to 100 sea otters in the nearby ocean swell, towering sea arches, leaping salmon and lush ancient rainforests.
With plenty of free time before and after dinner, you can socialise or choose a book from the extensive library. Alternatively, there is time to explore the beaches and forest trails, or play on a paddleboard in the sheltered bay, while sea otters dive for crabs on the ocean floor.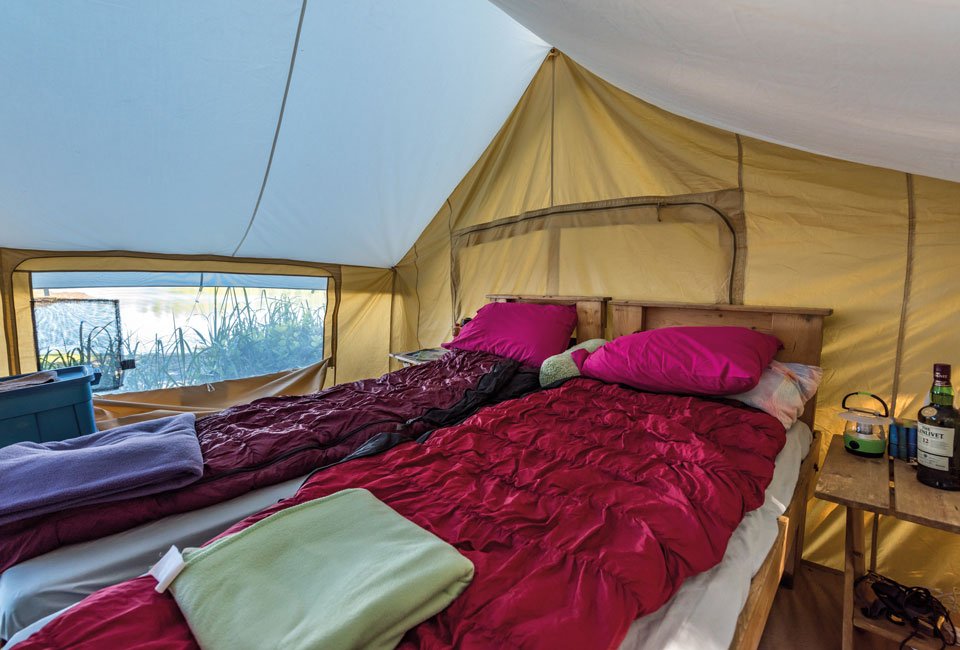 Centuries of tradition
A wilderness adventure with West Coast Expeditions offers the unique opportunity to meet the local First Nations community of Kyuquot, which is home to about 200 people. Trip packages of five or six days include a special visit from a Kyuquot family, before joining them for a feast of freshly caught salmon, which they barbecue using traditional ancestral techniques. Otherwise, the camp's chef and staff prepare a delicious variety of hearty meals served in the spacious dining shelter, or enjoyed around the campfire.
Recognised by Destination Canada for offering a 'Canadian Signature Experience', West Coast Expeditions is also an ecologically-conscious company and the first sea kayaking tour provider in Canada to achieve the 'Green Tourism Gold Award' for their sustainable and environmentally responsible practices. This includes a strong reliance on solar power, propane, rainwater collection, and over 40 years of mutually supportive relationships with the local Kyuquot-Checleset First Nations people.
From ages four to eighty-four, solo or with family and friends, West Coast Expeditions offers something for everyone. Whether combing the beaches for prized glass fishing floats that have drifted across from Japan, or keeping watch for humpback or grey whales, you will connect with the magic and majesty of this wilderness sanctuary. This hidden gem on the western edge of Canada – the Sea Otter Coast.
Further information
www.westcoastexpeditions.com