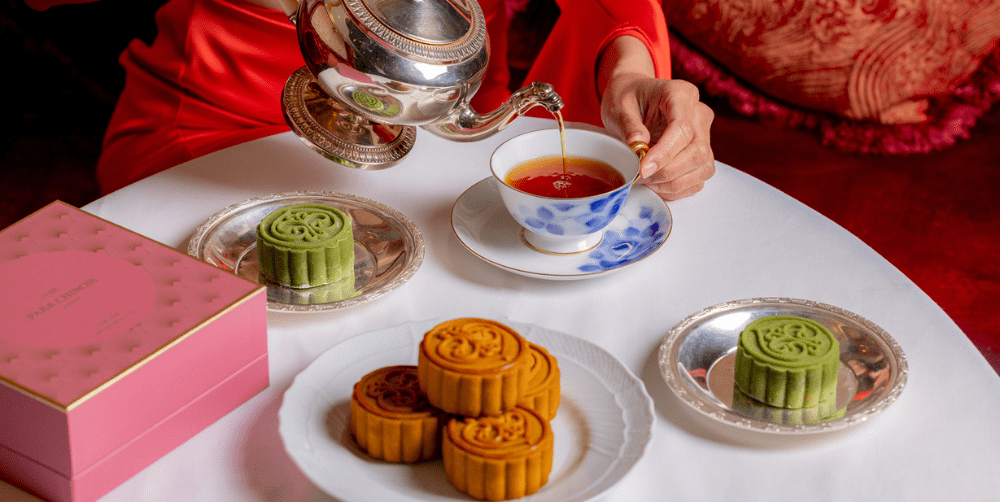 PARK CHINOIS TO CELEBRATE MID-AUTUMN FESTIVAL WITH MOONCAKE POP-UP AT BURLINGTON ARCADE
In celebration of the upcoming Mid-Autumn Festival, Park Chinois, Mayfair's most opulent Asian restaurant, is delighted to be bringing their exquisite, limited-edition Mooncakesto Burlington Arcade for the very first time. In homage to China's time-honoured festivity, the handcrafted Mooncake, a symbol of tradition, family, and togetherness, will be available for purchase in Burlington Arcade from a beautifully ornate, pop-up cart from 23rd – 29th September. 
Crafted by Dim Sum Head Chef Kin Min How, each Baked and Snow Mooncake is a work of art, a delicate combination of the finest ingredients and traditional craftsmanship, presented in a stunning gold-gilded box, as a set of four and priced at £65. 
Traditionally eaten during the Mid-Autumn Festival when the moon is at its brightest, the Baked and matcha-flavoured Snow Mooncakes will also be available at Park Chinois, ensuring guests can savour the taste of tradition and create lasting memories with their loved ones. 
From 23rd to 29th September, a celebratory Mid-Autumn Group Feasting Menu will be available for guests of four or more. The menu will showcase some of Park Chinois' most renowned dishes from Executive Chef Che Liang Lee, including the signature Duck de Chine, roasted to order. 
Baked and Snow Mooncakes are available to purchase from Burlington Arcade from 23rd – 29th September, between the hours of 12pm – 7pm Monday to Saturday and 12pm – 6pm on Sundays. A set of four Baked or four Snow Mooncakes is £65 Baked and Snow Mooncakes will also be available for purchase from Park Chinois at this time.
Celebratory group dining menu will be available during lunch and dinner 23rd September to 29th September. For groups of four or more, a deposit will be required in order to secure the menu.