Anyone familiar with South-east Asia knows that it boasts some of the most stunning and diverse scenery on the planet – and nowhere are its natural wonders more abundant than throughout the region's winding waterways. From the karst-studded grandeur of Halong Bay in northern Vietnam to the ever-mighty Mekong, and the spiritual Ayeyarwady river in Myanmar, South-east Asia is total paradise for those who love to be out on the water.
Taking you to the heart of these sublime surroundings is Heritage Line, who offer bespoke cruise itineraries onboard 46 small, luxurious ships. Founded 10-years ago and one of Asia's leading operators, Heritage Line is renowned among cruise connoisseurs who are looking for a different way to travel. The cruise company is proud of its "collection of distinctive abodes on the water." Beautifully appointed with large private and public spaces, the vessels perfectly balance intimacy and indulgence with a range of offerings, including a spa, terrace pool, and not to mention the onboard fine-dining.
Halong and its serene sister bay, Lan Ha
Heritage Line has recently expanded its choice of itineraries and destinations to include a true South-east Asia essential: a multi-day voyage from the famous Halong Bay to the lesser-known, but no less beautiful bay of Lan Ha. This pristine coastal region of Vietnam can be experienced on Heritage Line's unique one- or two-night itineraries. Two brand new, ultra-luxe ships with stunning interiors have been built just for this region, one for each itinerary and each offering a themed excursion – wellness or cuisine.
With 10 suites, the recently launched "Heritage Line Ylang" focuses on wellbeing, with onboard spa facilities, yoga and meditation. While the "Heritage Line Ginger" (12 suites) takes passengers on a culinary adventure, with cooking on display from the restaurant's open kitchen. Both tours enable guests to enjoy activities including, exploring Cat Ba Island village on bicycle, kayaking and swimming in the bays, easy jungle hiking and an excursion to a unique floating fishing village. The activities on both ships take place in the tranquillity of Lan Ha Bay (the jungle hiking and fishing village visit are exclusive to the 2-night "Ylang" cruise). Lavish facilities, including a resplendent sun deck with pool, bar and library lounge, are in addition to delicious full-board fine-dining.
The Upper Mekong in style
Equally compelling is Heritage Line's new cruise along the Upper Mekong in Laos. Bookings are now being taken for this route, which will set sail in October 2020. Recognised as a pioneer of this exotic stretch of river, the crew of the "Heritage Line Anouvong" welcomes guests onboard the upper Mekong's first luxury cruiser. The 10 state-rooms and suites promise luxurious living spaces and unprecedented intimacy for passengers, while an alluring spa, panoramic terrace deck, cosy cafe/lounge and restaurant all invite guests to sail in splendour through the secluded Laotian countryside.
A shorter 3-night cruise winds its way from the Golden Triangle at the Thailand/Laos border in the north-west of Thailand to the royal city and UNESCO World Heritage Site of Luang Prabang (or vice versa). Alternatively, a 7-night cruise extends this route down to the Laotian capital of Vientiane (nine-nights vice versa). Both itineraries promise a kaleidoscope of adventure, featuring pristine landscapes, untouched local riverside villages with ethnic hill tribes, kayaking tours and romantic riverfront sunset dinners.
Other fascinating excursions
l World-renowned Halong Bay can be explored on classic 1-or 2-night trips on the exquisite six-suite craft, "Violet", or her cosy, traditional Indochinese junk-inspired sister, "Jasmine". l On the Lower Mekong between Vietnam and Cambodia, the ever popular 7-night cruise is an essential cruise, enjoyed on board the regal and romantic "The Jahan" and "Jayavarman". l The spectacular star of Heritage Line's ship collection, "Anawrahta", plots majestic cruises of various lengths along the spiritual Ayeyarwady and exotic Chindwin rivers in Myanmar, one of Asia's least explored, but most beautiful nations.
HALONG AND LAN HA BAY
A choice of two unique cruises with suite-only accommodation, all with large private balconies and luxury amenities. Cruises include: l Stunning facilities featuring spa, steam bath, sauna, pool, bar, lounge, sun deck, open kitchen, wellness studio. l A choice of 1-night culinary-themed or 2-night wellness themed journeys offering, activities and sightseeing.
THE UPPER MEKONG
Cruise on the first ever luxury ship in Laos, featuring eight staterooms with French balcony and two incredible suites with private balcony and jacuzzi. State-of-art facilities including spa, panoramic bar-Lounge, restaurant, and sun deck. 3, 7, and 9-night itineraries offering a stylish off-the-beaten track cruise.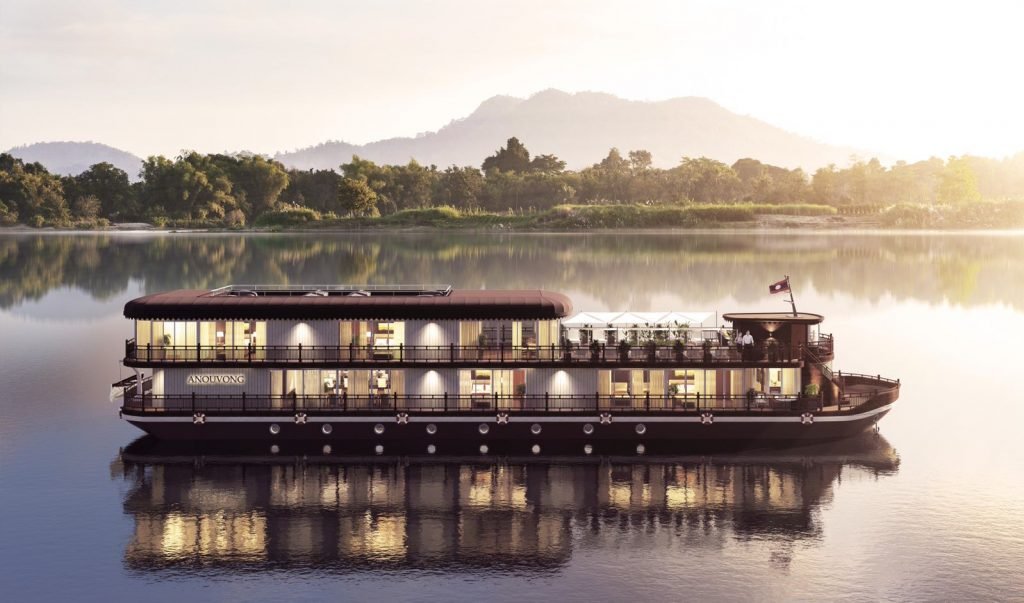 Further information