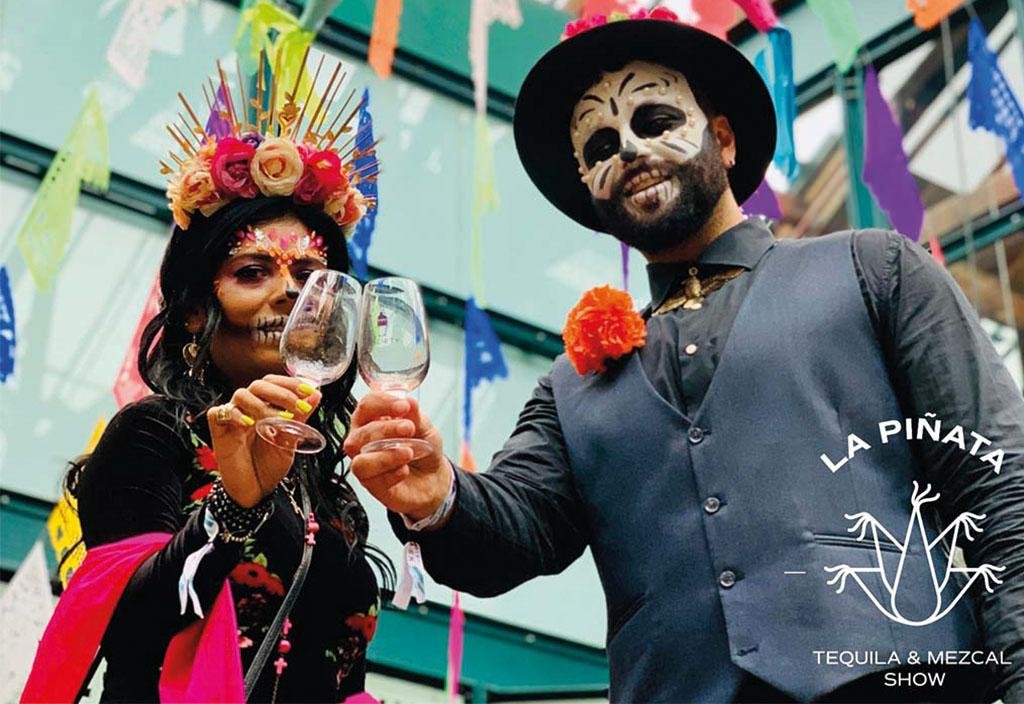 Spirits Society today announces the launch of tickets for one of a kind gin festival, Junipalooza and La Piñata agave celebration in London for 2022. La Piñata will take place in celebration of Cinco de Mayo on 7th May 2022 whilst Junipalooza will take place on 11th and 12th June 2022, in celebration of World Gin Day at Tobacco Dock, London.
La Piñata launched in 2021 and is the only specialist tequila and mezcal show in the UK. Following last year's stellar inaugural event, La Piñata 2022 is set to be a bigger and better celebration of Agave spirits, Mexican culture and an opportunity to taste a diverse range of Tequila and Mezcal side by side. With over 20 producers set to talk visitors through their ranges of tequila and mezcal, the 2022 show will see the addition of a bar serving refreshing Palomas and Margaritas along with a Street Food market offering the very best Mexican and Latin American food to enjoy alongside delicious agave spirits and live entertainment. Exhibitors include The Lost Explorer Mezcal, Dangerous Don Mezcal, Cazcabel Tequila and Vivir Tequila. 
This year, La Piñata have partnered with London Mezcal Week founders, Thea Cumming and Melanie Symonds, who will be running and hosting all masterclasses at the festival, where they will be diving deeper into the subject and appreciation of mezcal. A full schedule of tastings and masterclasses, which are included in the ticket price will be announced on 1st March 2022.
Now in its ninth year, Junipalooza is a unique celebration of gin in that it is a "Meet The Maker" festival as either the distiller or brand owner from over 60 gin brands will be at the event, offering guests the chance to discover over 400 different gins including both traditional London Dry gins and an exciting variety of flavoured gins. Exhibitors vary from British makers such as Isle of Wight's Mermaid Gin and Tarquin's Gin to some of the most exciting gins from around the world, including brands such as Mallorca Distillery and Never Never Gin. Almost half of the exhibitors will be building their own stands, bringing to life their brands in unique and immersive ways, including two experiential themed rooms and a newcomers zone, showcasing some of the newest gins on the market, with some gins launching at the show. 
Just like La Piñata, on arrival, all visitors will be given their very own keepsake tasting glass to take around the show. Gin expert Olivier Ward will also be offering gin masterclasses and new to the festival this year will be a street food area in collaboration with Feast, offering a range of delicious independent food stalls including a lounge with seating and music.
Emile Ward, Co-founder of Spirits Society says: "We're really excited about this year's shows, the line-up is so dynamic and diverse. They are such a great chance to connect makers and fans and for people to explore categories and discover what they like. More so, they are a really unique moment where an entire community comes together in celebration and conviviality – we can't wait!" 
Junipalooza Session 1: Saturday 11th June 2022 11:00 – 15:00 
Junipalooza Session 2: Saturday 11th June 16:00 – 20:00
Junipalooza Session 3: Sunday 12th June 2022: 11:00 – 16:00 
Junipalooza tickets are available from EventBrite or Time Out. RRP: From £28 for four hour session per person or £50 for weekend ticket.
Each ticket holder is entitled to £5 off any purchase of gin from Spirits Kiosk, during or after the event. Spirits Kiosk is a one stop shop focussed on delivering delicious spirits, ranging from small craft distilleries and household favourites, cocktail essentials and low-and-no options for discerning drinkers.
La Piñata Session 1: Saturday 7th May 11:00-15:00
La Piñata Session 2: Saturday 7th May 16:00-20:00
La Piñata tickets are available from EventBrite or Time Out. RRP: £20 for four hour session per person 
Location: Tobacco Dock, Wapping Lane, E1W 2SF
About Spirits Society 
Spirits Society is an events and community hub for Spirits enthusiasts and those curious to find out more about the liquid inside their favourite bottles on shelf. Spirits Society was founded by Emile and Olivier Ward who host events ranging from Digital Tastings and Webinars, to intimate Masterclasses and big Meet the Maker Festivals such as Junipalooza and La Piñata where thousands of like-minded drinkers come to celebrate their favourite spirits.
For further information:
www.spiritssociety.com/junipalooza
www.spiritssociety.com/la-pinata