Fine wine and spirits company, Biggar and Leith, launches an exciting new brand, The Butterfly Cannon Tequila.
Taking its name from the annual migration of butterflies from the US to Mexico, the super premium Tequila is 100% Agave and is produced in Mexico's most awarded distillery, Destiladora del Valle de Tequila. The Butterfly Cannon Tequila range comes in three expressions: Rosa, Silver Cristalino and Blue.
The Butterfly Cannon Blue expression is infused with prickly pear and clementine, with an unusual natural blue colour which changes colour when a mixer such as tonic or lime is added. Designed for mixability, The Butterfly Cannon Rosa is made by infusing Mexican pink grapefruit peel in silver Tequila. The Silver Cristalino is a clean, crisp silver Tequila, aged for up to 30 days in barrels before being charcoal filtered to produce a perfectly clear tequila. The Butterfly Cannon expressions are made from 7-8 year old agave, sustainably grown, harvested by hand and baked in traditional steam ovens before being mashed, fermented and distilled.
The Butterfly Cannon Tequila is packaged in distinctive 50cl and 5cl bottles with a real cork on the larger size. The Tequila is designed to be mixed in a range of cocktails as well as sipped or mixed with tonic or soda.
The Blue Margarita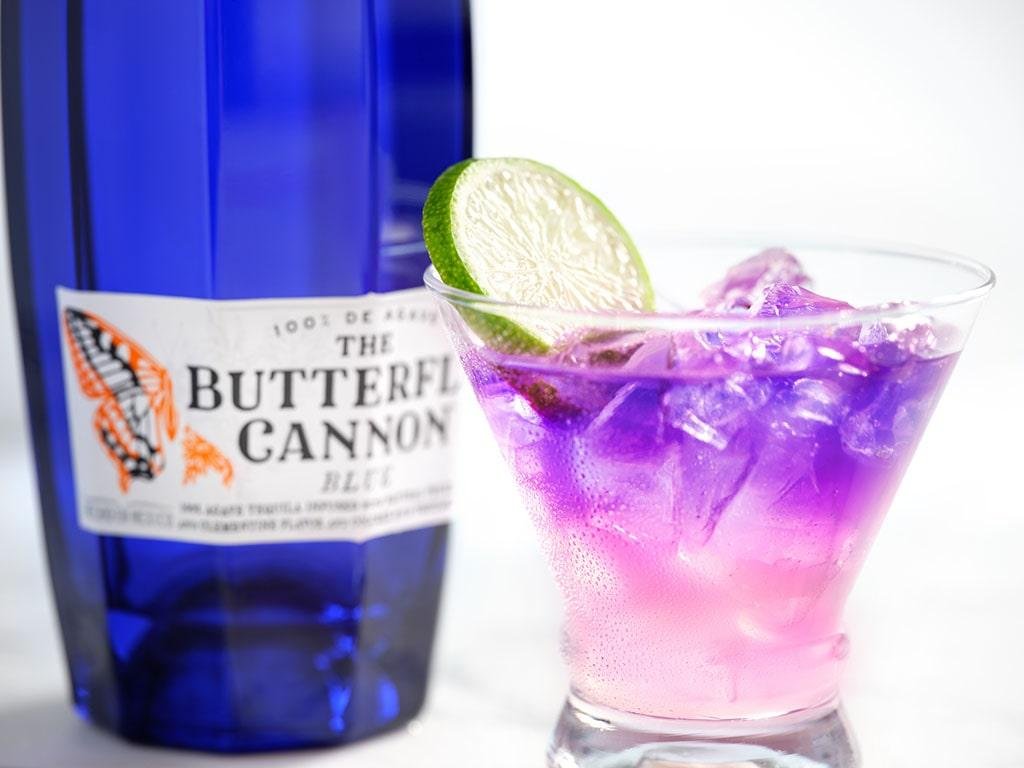 50ml The Butterfly Cannon Blue Tequila | 25ml Orange Liqueur | 25ml Fresh Squeezed Lime Juice | Soda
Mix the Butterfly Cannon Blue Tequila, orange liqueur and fresh lime juice. Add a splash of soda to spritz it up and serve over ice with an orange slice.
The Butterfly Cannon has been created by the team at Biggar and Leith, owned by Elwyn Gladstone and Mark Teasdale. Elwyn is the founder of Malfy Gin.
Elwyn Gladstone says: "We created Butterfly Cannon Tequila to make you rethink the Tequila category, creating an approachable Tequila designed for mixability. We have two stunning expressions, Blue and Rosa, alongside the classic Silver Cristalino style. We have plans to help preserve the natural wonder of the butterfly migration and rather than creating another celebrity brand, we wanted to produce an authentic, sustainably-produced Tequila with real heritage. We will be making contributions to special projects including The Monarch Butterfly Fund that aim to preserve the natural habitat of butterflies in North America and Mexico, for generations to come."
RRP: £33 for a 50cl bottle ABV: 40%. Available from Amazon
For further information:
www.butterflycannontequila.com