Escapade Sweden specialises in transformational travel to the Nordic region. Escapade got its name and brand from its founder Åsa Lind Chong's love of travel and her heritage as a Nordic, Swedish adventurer.
Our aim is to expertly guide you in a true Nordic adventure in the heart of the wilderness of Sweden, as pathfinders to the best gems the region has to offer.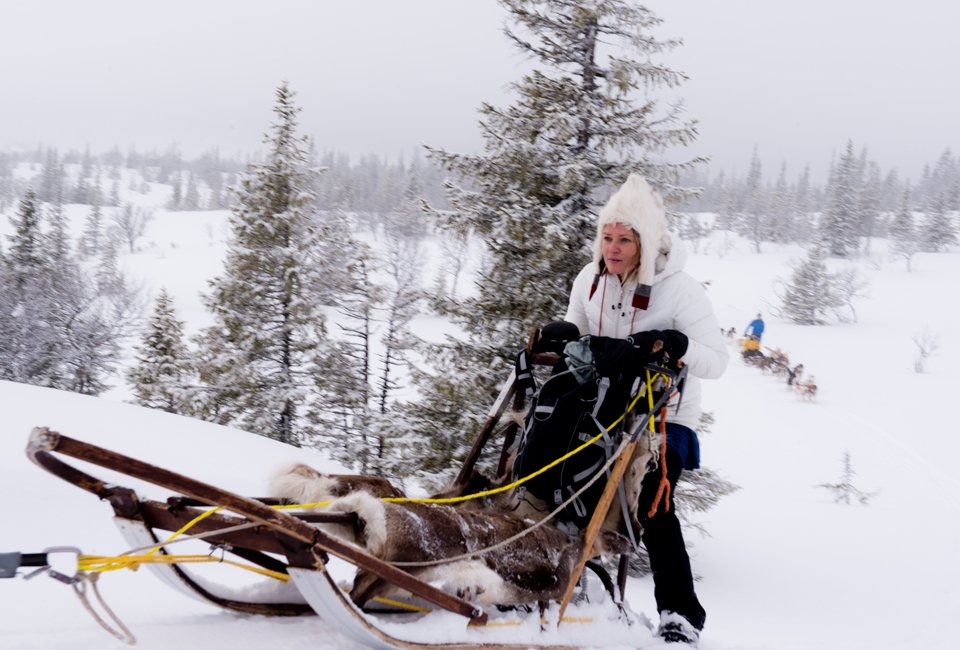 We continuously seek out fun experiences and pride ourselves on only offering adventures with authenticity. In piecing together the experiences that form part of each adventure, we have taken to heart the need for people in today's busy societies to "Rewild" themselves.
What is Rewilding of humans? Rewilding for us means returning to a more wild or natural state. Sort of the opposite to domestication. This is precisely what we have created all our adventures around. Our core activities for winter and spring include: Making fires, Nordic bush craft, Survival (from basic to advanced), Snow-shoes or Skiing (cross country, mountain style, randonee, top-touring – beginner to advanced) and we also arrange Dog-sledding, Snow-kiting, Cross-country iceskating and ice driving
(weather depending). Sauna rituals with dipping are also arranged.

We can tailor each trip to suit your needs, skills and wishes and offer a variety of accommodation from a traditional Mountain Lodge (with its own distillery and lauded restaurant), the oldest heritage hotel in Åre Village (where you hang with the locals after hours), in a mountain top hotel or in wood fired cabins strewn along the wilderness.
Get in touch and book a 2 to 5 day, or week-long Rewilding experience with us and return home with a better connection to both nature and yourself as well as new skills to boast.
What our guests say about us:

"Just went on a Rewilding trip and what a great experience from start to finish. I really felt connected to the wild! Definitely coming back again!" Björn, 2017
"WOW! It has been very long since I explored the Swedish nature like this. You guys just added this weekend's experiences to my most precious spot in my memory bank. Thanks for teaching us how to survive when the big storm arrives. And thanks for the laughs and hospitality." Robin, 2017
"Amazing experience both privately and professionally. Getting connected with nature and soul in this way has filled our batteries and creativity as a person, but also as a team for a whole year. Best adventure in our lives! Looking forward to the next expedition, thank you Åsa and the amazing team behind Escapade Sweden." Ferat, 2017.
As a special deal for the readers of The Luxury Report we are offering a special deal for the month of January. Join us for a minimum 3 night adventure and get a 15 percent discount. Email us with the code LUXURYREPORT-JANUARY 19 and receive this special offer.)
Further information