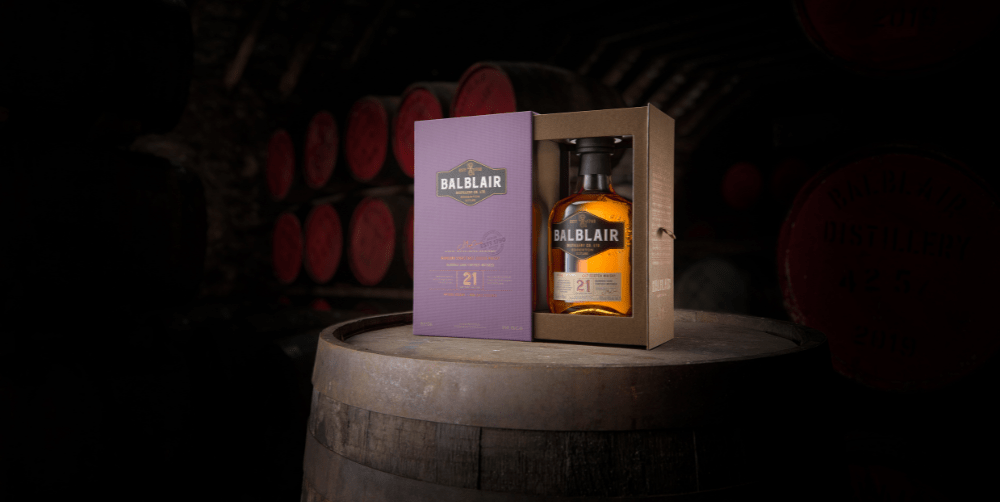 Patience, Deliciously Rewarded: Introducing Balblair's exquisite 21 year old single malt whisky
Prepare to indulge in the epitome of opulence as Balblair, the esteemed Highland single malt Scotch Distillery renowned for its unrivalled collection of extraordinary single malts, unveils its crowning jewel: the highly anticipated release of their 21 Year Old expression. This remarkable permanent addition to the Balblair portfolio represents the pinnacle of craftsmanship with six years of further maturation in Spanish oak butts. 21 Year Old embodies a symphony of traditional methods, unparalleled flavour profiles, and an unprecedented level of refinement, making it their most harmonious creation to date.
21 Year Old is the oldest single malt in Balblair's core collection and encapsulates the very essence of the distillery's distinctive style and character.
The single malt Scotch whisky serves as a testament of the time, unwavering dedication of its artisans, and the profound artistry behind Balblair's whisky-making process, truly epitomising the concept of 'patience, deliciously rewarded.' Starting its journey in carefully selected American oak ex-bourbon barrels, this distinguished blend spent fifteen years maturing before embarking on an extended phase of refinement in handpicked Spanish oak butts, seasoned with Oloroso wine. The ensuing six years of this meticulous aging process presented an alluring tapestry of spiced, fruity flavours, complemented by a luxurious golden amber hue, and a long and lingering finish with notes of dark chocolate and tropical fruit.
Drawing inspiration from the picturesque Scottish Highlands that embrace the distillery, Balblair 21 Year Old is a true reflection of its terroir. Every sip reveals the essence of locally sourced, spring water, intertwined with the captivating influence of hand-selected oak casks carefully chosen to accentuate the whisky's complexity. This harmonious fusion ensures an extraordinary drinking experience that will be treasured by both seasoned whisky connoisseurs and passionate enthusiasts alike.
Reflecting on this remarkable creation, John MacDonald, Balblair's Distillery Manager, remarked, "Balblair's 21 Year Old is the culmination of our commitment to craftsmanship and the timeless art of whisky-making. From the moment the spirit touches the cask until it reaches full maturity, every detail is carefully nurtured, resulting in a remarkable whisky that flawlessly captures the essence of Balblair."
A whisky this special takes time, meaning that the expression will be available in limited quantity. Poised to make its debut in the United Kingdom from late September 2023, before rolling out to other markets including Europe, North America and Asia in the coming months, Balblair's 21 Year Old single malt expression will grace specialist whisky retailers. Whisky aficionados are encouraged to embark on a journey of sensory delight, immersing themselves in the exceptional flavours and incomparable craftsmanship that have become synonymous with the distinguished Balblair name.
Bottled at 70cl with an ABV of 46%, Balblair 21 Year Old (RRP £300.00) will be exclusively available to buy from The Whisky Exchange from 29th September before rolling out to other whisky specialist retailers from Monday 2nd October.
For more information please visit: https://www.balblair.com/
To purchase Balblair, please visit: https://www.thewhiskyexchange.com