Baden-Baden: Fall In Love This Autumn
From hot thermal springs and soothing spas to thrilling adventure and rich culture, there is never a shortage of things to see and do in Baden-Baden. Here are our top three reasons that will make you fall in love in Baden-Baden this autumn
Stunning nature & the great outdoors
Beautifully located on the northern cusp of the Black Forest, this city is famous for its spa & wellness as well as its elegant lifestyle. Baden-Baden is also a haven of tranquillity where nature takes centre stage. Here during autumn, nature changes its costume to the most beautiful shades of orange, ochre and gold. The town centre is a car-free zone and everything can be reached on foot. For a breath of fresh air, visitors can stroll through many picturesque parks and gardens, home to some of the most exotic floral varieties. The Lichtentaler Allee, a 3-kilometre-long colourful ribbon, invites you for relaxing walks or horse carriage rides. The city is also the gateway to the Black Forest Panoramic Route which leads to the Black Forest National Park and impresses you with rugged nature and splendid vistas over the untamed beauty of this entire area.
Breathtaking views of Baden-Baden and the Rhine Valley and the best spot for lovely sunsets are offered atop Merkur Mountain – at 2,191ft the highest point of the city. A funicular railway brings you up to the peak in only a few minutes. Close your eyes and take a deep breath in – the Black Forest lies at your feet, waiting for you to explore its many walking paths and hiking trails. The Panorama Hiking Trail was voted Germany's most beautiful trail in 2020.
If you prefer cycling then there are plenty of mountain and e-bike options for you to choose from to see the city and to discover the area. Since nature is a perfect backdrop for any outdoor sports and activity, why not hit a few balls at a driving range in and around Baden-Baden as there are plenty of clubs to choose from.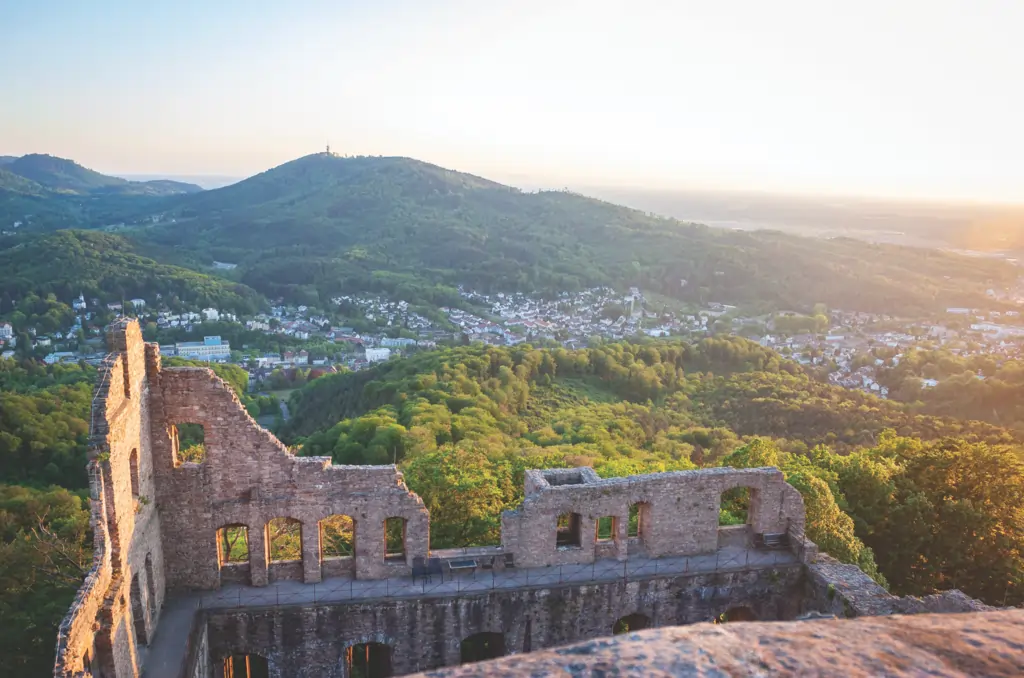 Food paradise
Gastronomy abounds in Baden-Baden. During the time of harvest in autumn, there is an abundance of fresh local produce which makes eating out a delight for your taste buds. From world-renowned Michelin-starred restaurants, such as Maltes Hidden Kitchen and Le Jardin de France, to charismatic local taverns, a wide range of international and local cuisines is available and delicious food is always just around the corner. You can taste the freshness of the colourful seasonal fruit and vegetables used in all types of cuisines available and know it didn't travel far to get from farm to table. Have you tried dishes such as Flammkuchen (Alsatian pizza), Zwiebelkuchen (onion tart) or Maultaschen (local ravioli stuffed with different fillings) yet? Perfect food for autumn. They are hearty and wholesome and so delicious with a glass of sweet grape juice straight from the press. Sparkling and sweet at first, the grape juice tastes like the summer sun, but as it continues to ferment in the bottle, the so-called new wine increases its alcohol level and therefore changes its flavour profile constantly.
Wine lovers rejoice! The Rebland, the local wine mecca right outside Baden-Baden, is home to countless sun-drenched vineyards producing delicious bottles of Riesling. Especially enjoyable is wine tasting during harvest time as the local vineyards proudly showcase their homemade produce.
Wellness & spas
Baden-Baden's hot thermal springs are its raison d ́être –not only a rite of passage but also very relaxing. The city gained UNESCO World Heritage status in 2021 as one of the Great Spa Towns of Europe.
Daily 800,000 litres of warming waters at a temperature of up to 68 degrees C work wonders for body and soul at any time of year. This is what the Romans discovered some 2,000 years ago when they founded the first public baths in Baden-Baden. Nestled in architectural masterpieces and appointed with the best possible service, the expansive Caracalla Spa and the historic Friedrichsbad are the perfect spots for a pampering session. Opened in 1877, the ladder looks back on 145 years of bathing history and brings traditional Roman bathing culture and Irish hot-air bathing to the modern day. For even more exclusivity make sure you book the private Emperor Bath. From soap brush massages to spacious saunas, these splendid spas offer world-class treatments using mineral-rich water that bubbles up from twelve springs rooted deep below the earth. Luxurious day spas at some of Baden-Baden's wellness hotels allow pampering and indulgence at another level. Wellness of the highest quality.
Home of 'the good-good life', Baden-Baden is a truly enchanting place, exuding class and sophistication at every turn. For every piece of modern luxury, there is an equally charming reminder of the city's ancient culture and history. A must-see for any traveller, this is one destination that cannot be missed this autumn.
Further information – www.baden-baden.com/en