Home to world-renowned spa retreats, Michelin-star dining and surrounded by breathtaking scenery, one visit to Baden-Baden is never enough 
Combining a contemporary lifestyle with a fascinating history, Baden-Baden brings Belle Époque style to the 21st century. Promising visitors a taste of 'the good-good life', this jewel of south-west Germany delights with its vibrant character, picturesque landscapes and sophisticated culture. 
The city, which can trace its origins back over two centuries, has always appealed to those looking for relaxation – indeed, the Romans came here to bathe in its therapeutic natural springs. Small but thriving, this German gem is all about reconnecting with nature. Baden-Baden has evolved into an iconic destination, enchanting all with its legendary hot springs, sublime spas and exceptional hotels.
Offering a range of opportunities for both relaxation and excitement, Baden-Baden is the ideal getaway for discerning travellers. Known by locals as the 'green city of short distances', this verdant oasis at the foothills of the Black Forest has it all.
Luxurious retreats
The choice of accommodation in Baden-Baden is as fabulous as the city itself – ranging from five-star spa and wellness hotels to charming family run boutique offerings. Wellness par excellence is delivered by Baden-Baden's spas. Set amid glorious architecture and renowned for their outstanding service, the traditional Friedrichsbad and the expansive Caracalla Spa are perfect for a pampering session. From soap-brush massages to spacious saunas, these splendid spas offer world-class treatments using the mineral-rich water that bubbles up from deep underground. The Friedrichsbad combines traditional Roman bathing culture and Irish hot-air bathing to refresh body and mind.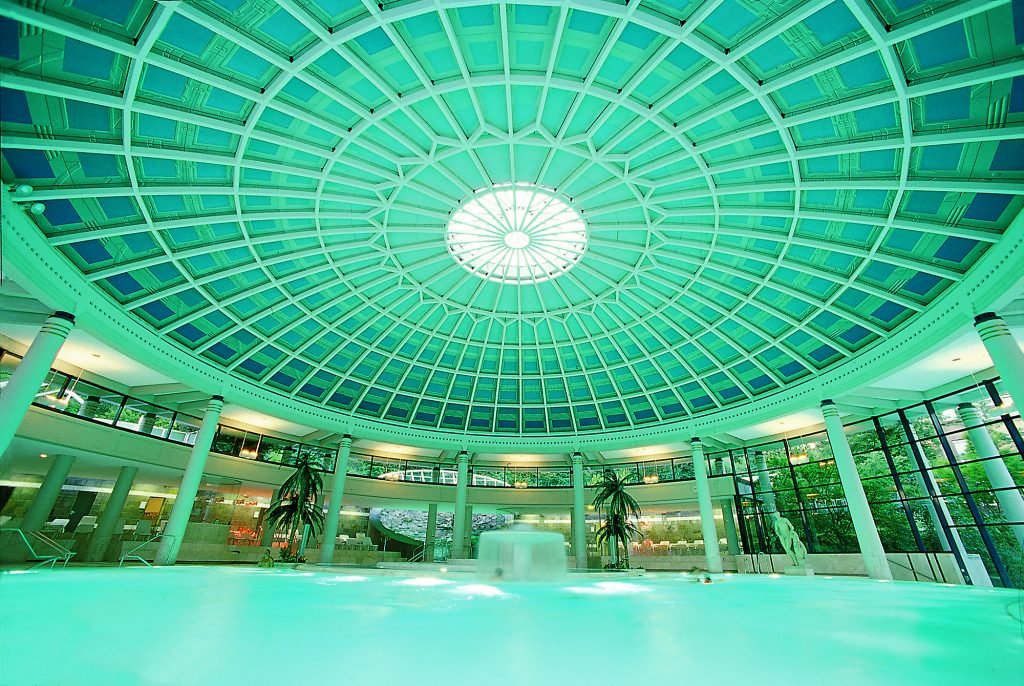 Cultural delights
Baden-Baden is loved for its grand style and glorious architecture, it's a city of impressive monuments, defined by inspiring galleries and museums. At its heart is the Kurhaus, where Baden-Baden comes to life with concerts, evenings at the casino, midnight dining and glittering galas. Spend the afternoon shopping under the colonnades and stroll through the picture-perfect park before indulging in an evening at the Kurhaus. The Casino Baden-Baden offers nights filled with glamour and conviviality. Grab a bite at The Grill Restaurant and try your luck at the tables with a game of blackjack or roulette.
Or why not immerse yourself in the city's museums and exhibitions? The walls of the Museum Frieder Burda, built by famed New York architect Richard Meier, are adorned with legendary works by greats including Picasso, Gerhard Richter and Neo Rauch. A glass bridge connects the exhibition with the State Art Gallery which is also home to a treasure trove of contemporary art.
The Fabergé Museum is also located in Baden-Baden, and exhibits more than 700 masterpieces of Carl Peter Fabergé, making it the only museum in the world dedicated to the Russian jeweller's life's work.
Baden-Baden is also home to Germany's second largest concert hall – the Festival Hall Baden-Baden. Whether opera or ballet, each and every performance is one to remember – all are crowned by the hall's stunning acoustics. At Easter, the Festival Hall collaborates with the Berlin Philharmonic Orchestra to produce its very own opera – a must-watch event in the cultural calendar. Beyond the concert hall, events include top-level horse racing at the Baden-Baden/Iffezheim Racecourse, an international vintage car meeting and, of course, a traditional Christmas Market.
An urban oasis
Baden Baden's car-free city centre is home to many parks and gardens, perfect for long walks, soaking up the fresh air whilst admiring the beautiful boutique shops. Winding its way through the city the Lichtentaler Allee parks and gardens charm at every turn. Known as 'The Promenade', this beautiful path unveils the splendour of Baden-Baden's palaces and villas. And then you have the pièce de résistance – the Gönneranlage Rose Garden, which is home to over 400 varieties.
Beyond the city centre, Baden-Baden has a magnificent landscape to discover. Outdoor enthusiasts will love the Panorama Trail, which has four varied routes around Baden-Baden. This wonderful multi-day tour takes in rugged cliffs and waterfalls, culminating in impressive views of Baden-Baden.
Golfers are also treated to stunning vistas as they pit their skills against the golf region Baden-Alsace. Here six championship golf courses are nestled between the Black Forest and Vosges mountains and offer an unrivalled golfing experience.
A feast for the senses
From Michelin-starred restaurants to cosy little taverns, there is plenty to enjoy about Baden-Baden's world of gastronomy. Local food proudly takes centre stage, but global cuisine is also well represented. From trendy sushi and beef specialties to authentic Indian and Asian delicacies, French fancies or classic Bavarian delights, there is dining for every palate.
Not only is Baden-Baden a goldmine for gourmets, it's also a mecca for wine connoisseurs. The surrounding Rebland region is full of sun-drenched vineyards that produce delicious Riesling, Pinot Noir, Pinot Gris, sparkling wine and schnapps. The views are every bit as impressive as the wineries. As you gaze out to castles and rolling hills, it's an idyllic backdrop to admire as you enjoy fine wine, delicious food and reflect on how Baden-Baden is a true feast for all the senses. 
Further information