Artist and Designer Gergei Erdei re-imagines The Drawing Room and Terrace at The MAINE Mayfair
The theatrical takeover of the Terrace and Drawing Room invites guests to take a walk in the designers' world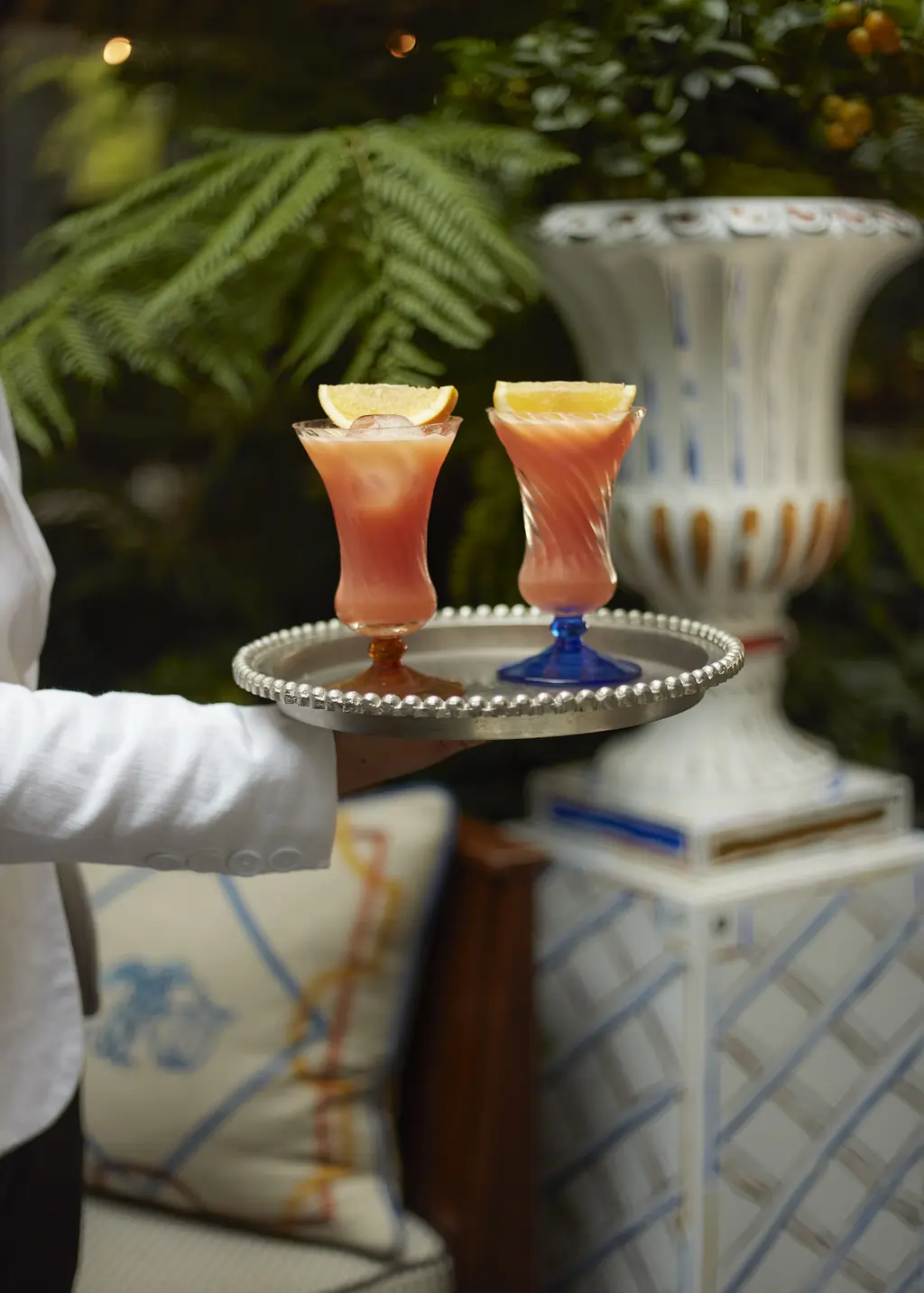 Photo credit: Panna Donka
Multi-disciplinary artist and designer Gergei Erdei stages an artful takeover of The MAINE Mayfair's Terrace and Drawing Room. Bringing his signature joie de vivre to the space. Rich with mythological references, Gergei Erdei brings to life his antiquity inspired world for the historic townhouse.
This month, the MAINE's iconic terrace is reimagined as The Orangerie; a "secret" Mediterranean garden where the balmy scent of orange trees extends the days of the summer. The space is adorned with Erdei's bold artisanal designs, romanesque urns hand painted by the designer and sumptuous cushions from his latest collections all printed with hand illustrated artworks.
For Frieze in October, the MAINE Mayfair's Drawing Room becomes La Galerie de Surrealism – a place where nothing is as it's first seen; an artful dream-like universe which unfolds through a corridor of screens hand painted with whimsical lines and boiserie style detail among Gergei's first sculptural objects. The indoor bar is transformed into The Room of the Zodiacs, a calming space decorated with cosmic objects and art. Here guests are invited to relax and enjoy an aperitif and cocktails; a sip that takes you to the skies.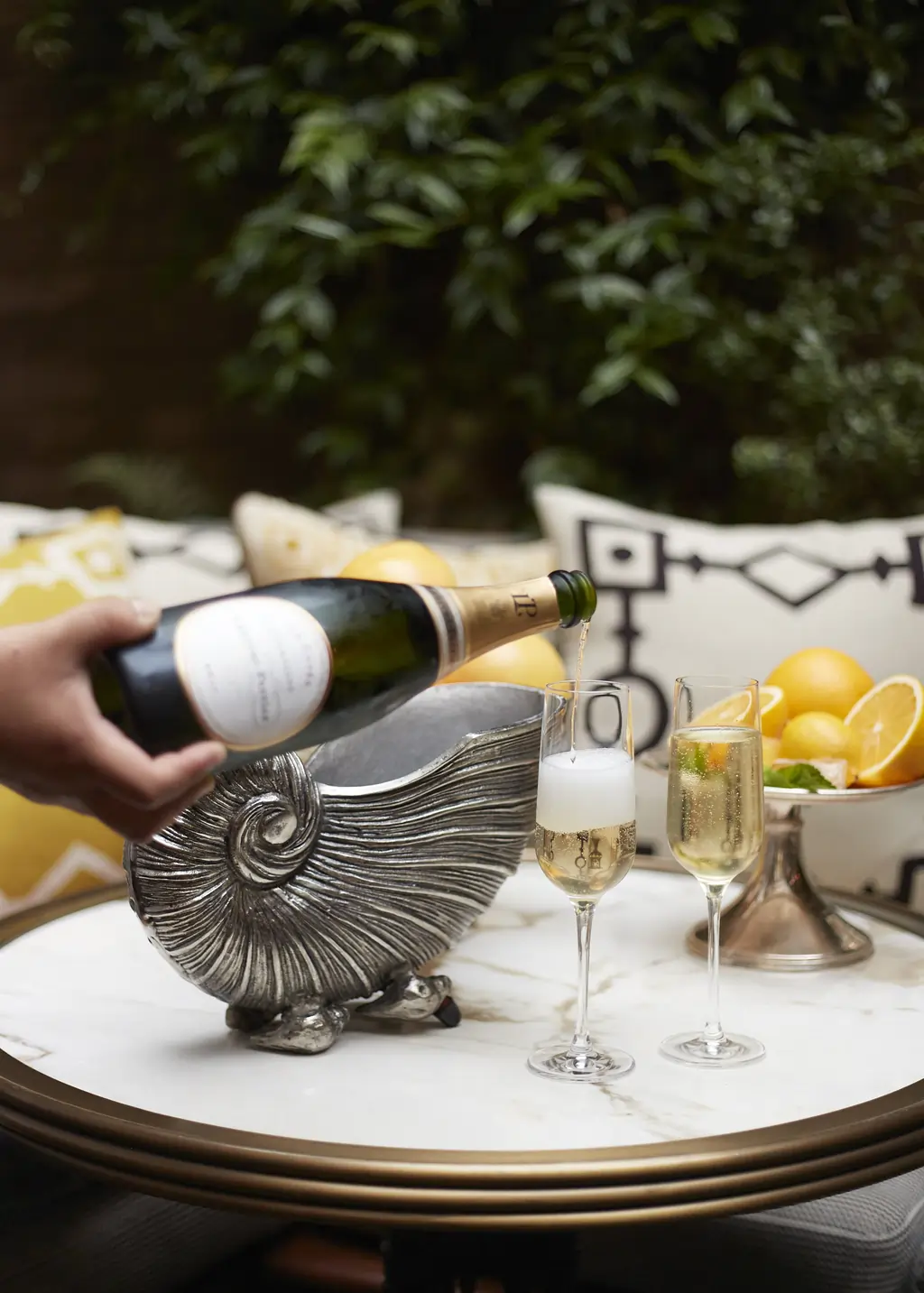 Photo credit: Panna Donka
At The Orangerie, a new set menu and cocktail list has been carefully curated in celebration of the space. Sip on five tasty cocktails at £18 each, including the Aperol Sour with Aperol, Limoncello, Lemon, 5 Citrus cordial, Sugar and Former, The Mezcal Negroni with Campari, Mezcal, and Sweet Vermouth, the Garibaldi which includes Campari and Orange Juice, and more. There are also four virgin cocktails at £12 each, including the Passion Fruit Cooler with fresh orange juice, passion fruit, ginger-honey and lemon, and the Citrus Sparkler with 5 Citrus Cordial, Agave, and Sparkling Water.
Guests can also enjoy dishes from the new set-menu, with plates that reflect the true essence of the collaboration. The three course set-menu is available for £80 per person and includes one glass of Champagne on arrival. Starters include Charred Artichoke Hearts, Beef Carpaccio, Sea Bass Ceviche and Fatty Tuna Belly. For the mains choose from Truffle Rigatoni, Parmesan Veal Chop and Sea Bass Fillet, and finally for dessert indulge in Crème Brûlée, Basque Cheesecake or the delicious Chocolate Mousse.
Photo credit: Panna Donka
Gergei Erdei, Creative Director and Founder of Gerdei Erdei, comments: "Amidst the chaos of the world, we are looking for escapism, magical experiences and memories. No longer are we living just in the digital world. I'm honoured to bring to life my universe for The MAINE Mayfair – a place where people can experience the magic of art and antiquity whilst dancing, dining and having fun."
Joey Ghazal, Founder and Managing Partner of The MAINE Mayfair, adds "We're very excited for our first artist residency with Gergei Erdei. We're always on the lookout for fun ways to collaborate with creative minds like Gergei, that can re-imagine our different spaces, elevate the guest journey and create a sense of discovery and whimsy"
Gergei Erdei is founder of his eponymous homeware brand which focuses on printed cushions and tableware designs among paintings and ceramics. The next stage of the evolution of Erdei's universe is a series of experiential collaborations, experiences and the creation of artisanal objects.
His work now encompasses select interiors projects including a boutique riad in Marrakech and a four story beauty clinic overlooking the Danube river in Budapest, both of which will be unveiled in 2024. The MAINE Mayfair takeover is the first residency of its kind for the designer.
The MAINE Mayfair is a unique New England inspired brasserie in an 18th century townhouse, featuring 350 covers across five rooms over three floors, with a year-round hidden terrace nestled in the former stables of the townhouse, now named Medici Courtyard. Designed in collaboration with BradyWilliams, the New England inspired Drawing Room and Terrace space is atmospheric by day, and seductive by night.
The Drawing Room, filled with natural light and offering views of Hanover Square, offers a mid-century aesthetic with a laid-back vibe and features a giant capiz shell chandelier, mirrored cocktail bar and sumptuous banquettes that add retro touches to the room, making this space the perfect setting for a cosy lunch or an evening cocktail with friends. The terrace features an eye-catching champagne and cocktail bar, where cocktails such as The MAINE's popular selection of Bloody Marys, and an unrivalled rosé selection is on offer to enjoy at the standalone bar or at your table.
Guests can enjoy Gergei Erdei's residency at The MAINE Mayfair from now until mid-November 2023.
For bookings please contact: reserve@themainemayfair.com
The MAINE Mayfair, 6, Medici Courtyard, London W1S 1JY
Opening Hours:
Monday – Saturday 12:00PM – 11:00PM
Sunday: 5:30PM – 11:00PM
www.themainemayfair.com | @themainemayfair