A missing purifier leads to full-blown flavour in this year's Ardbeg Day Limited Edition Whisky, Heavy Vapours.
In preparation for Ardbeg Day on Saturday 3rd June 2023, Ardbeg is releasing a limited edition single malt scotch whisky – Heavy Vapours. For the first time ever at Ardbeg, its whisky has been distilled without a purifier, which is responsible for Ardbeg's unrivalled balance between extreme peat and floral fruitiness, making Heavy Vapours the most full-blown Ardbeg. Defined by its distinctive profile of pungent earthiness, aromatic clouds of dark chocolate, a billow of aniseed and cinnamon, and a lingering tang of sharp peppermint, Heavy Vapours is the ultimate experimental Islay single malt scotch whisky matured in classic Ardbeg casks. Available to purchase online for £120 from https://www.ardbeg.com/en-gb from 23rd May 2023, 46% ABV. The limited edition whisky will also be available to purchase from various whisky specialists including The Whisky Exchange and Master of Malt.
Ardbeg Day is a global celebration of all things Ardbeg, held annually on the last Saturday of Islay's Festival of Music and Malt, Fèis Ìle. Festivities are set to take place at the distillery and across the globe on Saturday 3 June this year, including a Detective Noir themed celebration of Planet Ardbeg in London, where guests will be plunged into an alternative universe, inspired by the comic book genre, and tasked with finding the lost purifier – more details coming soon… The release of this experimental limited edition whisky marks this year's series of celebrations around the world, transporting people into the world of Planet Ardbeg.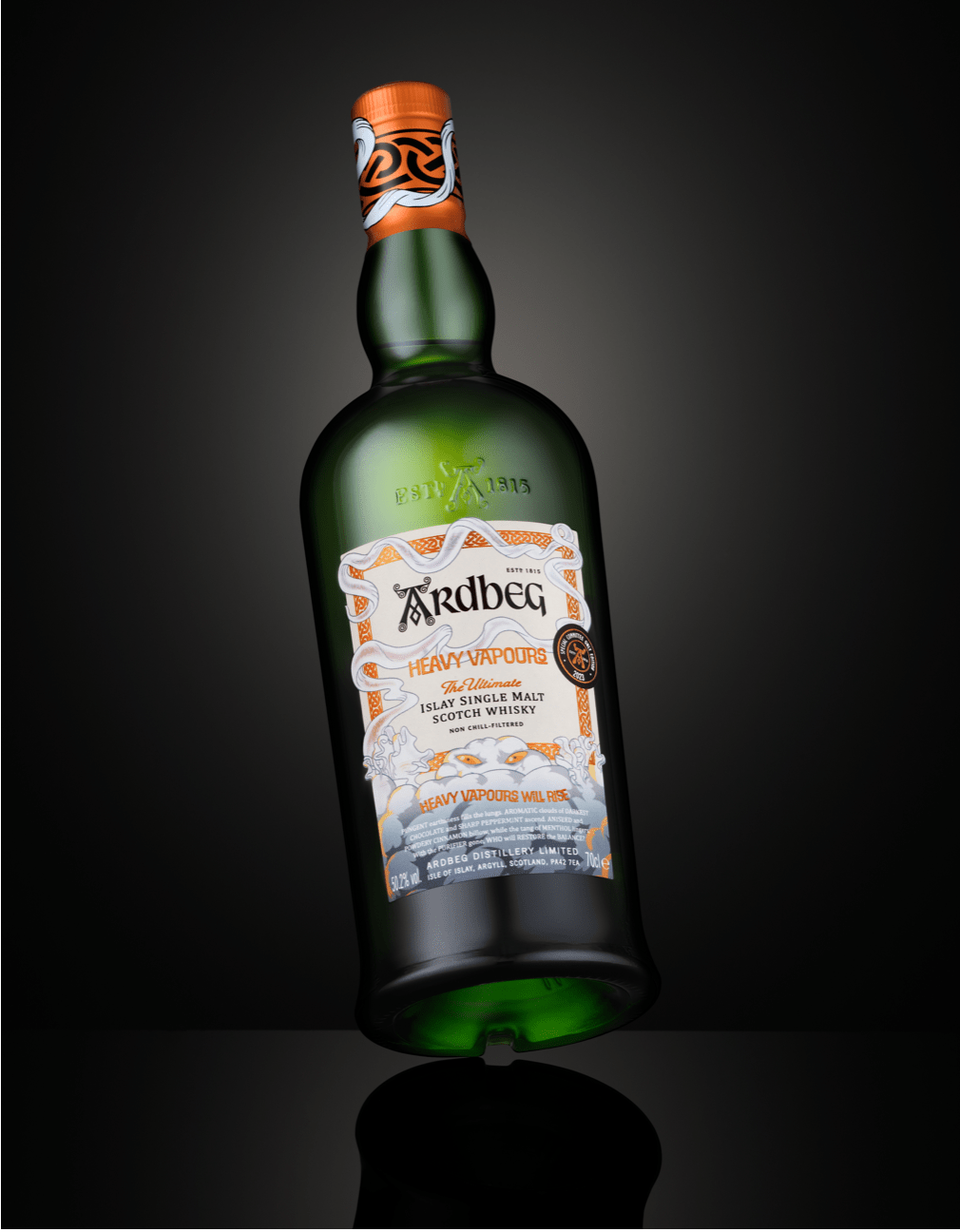 This creative experiment by Director of Whisky, Dr Bill Lumsden, has allowed the heaviest and untamed vapours to rise up the still during the distillation process before being captured, matured and bottled. Expect intense, pungent and aromatic smoke rises with a sweetness on the nose and on the palette, Ardbeg's darker flavours and notes rise with a cloud of disturbing ashy coal dust and a casting haze of cardamom, eucalyptus and coffee grits that lingers long and bold.
This year's limited edition smoky and earthy whisky pays tribute to the launch of Ardbeg's graphic novel universe, Planet Ardbeg. The expression's unusual distillation process and resulting flavour has been brought to life in the accompanying graphic novel created by celebrated comic artist and illustrator Dilraj Mann. This year, whisky lovers are invited to celebrate the theme of Planet Ardbeg Day, where they can expect to be transported into Ardbeg's mystical, graphic novel universe and uncover the mysteries behind the latest limited edition release. The graphic novel follows Agent 46, a plucky interplanetary detective on a quest to locate the elusive purifier, but can she restore Ardbeg's signature balance?
For members of the Ardbeg committee, a Heavy Vapour Committee Exclusive will be available to purchase online at https://www.ardbeg.com/en-gb from 18 April 2023. The Committee Exclusive will be bottled non-chill-filtered at 50.2% ABV, RRP £120. To purchase this exclusive limited edition whisky, join the worldwide Ardbeg gang and register free of charge at https://www.ardbeg.com/en-gb.