As you sip your cup of Assam tea on the sundeck of 'ABN Charaidew II', the ship glides closer to swathes of green along the river's edge. What at first might appear to be a cow grazing in the field is soon revealed to be an Indian elephant, a mother with her calf behind her. We have reached the edge of Kaziranga National Park, a UNESCO World Heritage Site, often referred to as the Serengeti of Asia. This vast expanse of grasslands and dense forests, criss-crossed by tributaries, lakes and streams is home to the largest population of the one-horned rhinoceros and the highest density of tigers in the world.
Welcome to river cruising in India with Assam Bengal Navigation (ABN). Journeys that take you on explorations of the two greatest Himalayan rivers of the Indian subcontinent, the holy Ganges and the mighty Brahmaputra.
River cruising provides an exceptional way to discover India away from the hustle of its crowded cities. ABN immerses you in the rural countryside where life flows at a slow pace. Here you can experience the many diverse cultures and communities along the riverbanks, each distinct in their traditions, religions and customs.
A shared vision 
When Andrew Brock and Ashish Phookan first met in 2001, they soon discovered they shared a common vision, to build a river cruise company in the Indian subcontinent. Combining their individual expertise in the travel industry, they formed Assam Bengal Navigation, an Indo-British venture which was the first to welcome guests on boutique river expeditions in India, celebrating the region by enhancing guest experiences.
Since 2003, Assam Bengal Navigation has grown its portfolio from specially designed, small ships on the Ganges and Brahmaputra rivers to jungle lodges and houseboats, becoming one of the pre-eminent travel and hospitality companies along the Himalayan river valleys of India. "India is unlike any other country," says Ashish Phookan. "In addition to the variety of culturally immersive experiences, the Ganges and Brahmaputra rivers present a unique experience which always surprises travellers. Along the magnificent Brahmaputra, our cruises take you to the wilderness of Assam, where one can spot rhinos, tigers, elephants, deer and wild buffaloes by safari or sometimes even from your cabin's panoramic windows; while the sacred Ganges embodies all that is religiously and culturally significant about our country. The British, French, Dutch and Portuguese also established trading settlements along the Ganges, making it a unique region to explore architectural and cultural remnants of the past."
On a river cruise with Assam Bengal Navigation, you will experience the profound cultural heritage of two distinct regions, Assam and Bengal – and local experts are on hand to deepen your understanding. From spiritual practices to folk dances that draw from centuries-old traditions; from indigenous tribal groups, artisan communities and village life to mystic minstrels and devotional songs, there is a rich tapestry of culture to learn. And of course, no trip to India is complete without experiencing the regional cuisine, created with passion by the chefs on board to round off your appreciation of India's majestic rivers.
Fit for royalty
In addition to their cruise offerings, ABN also operates a world-class boutique lodge in Assam's Kaziranga National Park the Diphlu River Lodge, where HRH Prince William and Duchess Catherine stayed during the royal visit to India. The Diphlu River Lodge is built along a small tributary of the Brahmaputra, a stunning private setting that changes with the seasons, from lush green paddy fields to warm yellow mustard fields. There is no finer resort for a fully immersive safari experience of Kaziranga and its wildlife than Diphlu River Lodge.
ABN's passion is to create unique, authentic, community-engaged expeditions along India's great rivers. They have taken special care to ensure that the experiences reflect the region in design and aesthetics. By purposefully employing and training local staff, ABN supports rural communities along the river and helps in promoting the concept of responsible tourism, to which they are fully committed.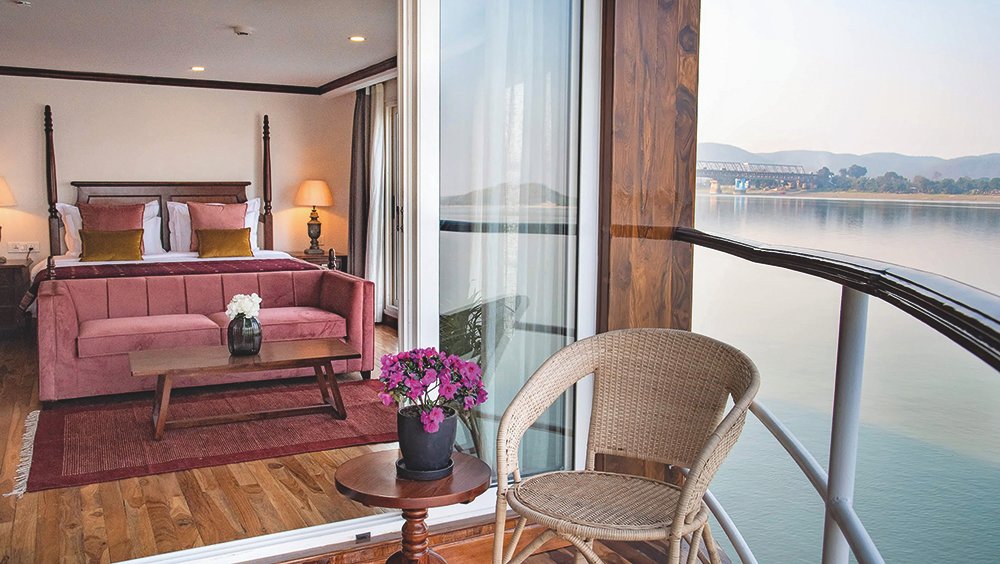 In addition, for every cabin or room booked with Assam Bengal Navigation, the company contributes 5% to environmental, education and local community development through their ABN Foundation in the regions of Assam and Bengal.
The majestic Ganges and Brahmaputra flow right to the heart of India's history and culture – experience them in the luxurious comfort of an ABN river cruise.
Further information