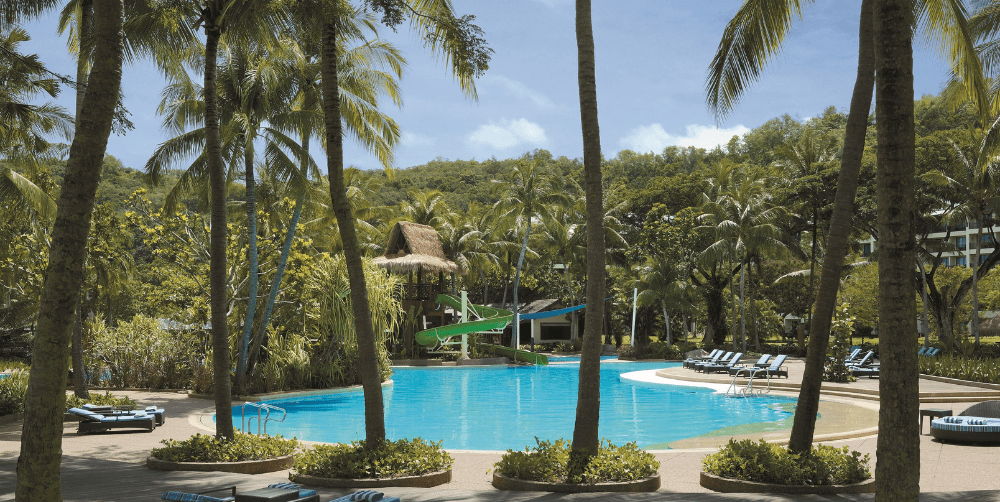 Above and beyond all inclusive: Shangri-La Rasa Ria, Malaysian Borneo
This summer at Shangri-La Rasa Ria, guests can immerse themselves in a world of unmatched opulence, remarkable culinary delights, and thrilling outdoor adventures.
Shangri-La Rasa Ria provides ultimate comfort and elegance in luxurious accommodations, featuring spacious rooms with ocean views and lavish suites adorned with traditional Malaysian touches. Each sanctuary is meticulously designed to offer a haven of serenity, blending modern amenities with traditional charm.
The all-inclusive offering provides access to a diverse range of delectable dining options. Experience authentic Malaysian cuisine crafted with locally sourced ingredients at Tepi Laut, indulge in gastronomic adventures at specialty grill and steakhouse Oceano Modern Grill, or savour light bites al fresco at the chic Coffee Terrace. Guest can immerse themselves in a delightful explosion of flavours with unlimited beverages from a selected alcoholic and non-alcoholic beverage menu between 12pm to 10pm at all restaurants and bars, complemented by impeccable service and a warm ambiance.
At Shangri-La Rasa Ria, adventure knows no bounds. With the all-inclusive package, travellers can enjoy a wide range of complimentary, exhilarating activities. Dive into the South China Sea's crystal-clear waters with a kayak or body board excursion or hire a bike to explore the 400-acre resort on two wheels. Experience unlimited access to the Rasa Ria Reserve, Shangri-La Rasa Ria's very own tropical jungle, where guest can delight in guided nature walks, explore the forest garden and discovery centre. The Rasa Ria Reserve is home to a wealth of native wildlife including slow lorises and long-tailed macaques. For families, there's unlimited wall climbing at the Adventure Point outdoor playground, whilst little ones have unlimited access to the Cool Zone Kids Club, where there's outdoor activities and arts and crafts aplenty.
Additional benefits of the all-inclusive package include return private airport transfers and a daily shuttle service to Kota Kinabalu city.
All-inclusive priced from £212.50 per night based on two adults sharing. Minimum four-night stay required.
For more information, visit All-Inclusive Borneo Holiday | Shangri-La Rasa Ria, Kota Kinabalu.