From the vast beauty of the Sahara desert, to Mongolia's emerald green plains, experience the great outdoors in supreme luxury
Immersing yourself in the glory of nature is never a bad idea, and there's nothing to say you need to sacrifice all of life's comforts to do it. Jungle or desert, there is tented splendour waiting to offer you the very best of both worlds. So, why not use the changing seasons as inspiration to travel further afield, to gaze on new horizons, and chart new territories, both external and internal.
At the world's best glamping destinations, you can disconnect to reconnect, leaving the digital world behind and immersing all your senses in the beauty of the nature. Here are four of our favourite destinations.
Shinta Mani Wild, Cambodia
Your wild Cambodian adventure begins – should you wish it to – at the end of a 320-metre zip-line where, like the hero of an Ian Flemming novel, you come to a halt before being immediately handed a cocktail. From the Landing Zone Bar, you'll make your way to a meticulously designed luxury tent, where creature comforts, including air conditioning, wi-fi and highly attentive room service, abound, and a vintage safari aesthetic is applied with a whimsical touch.
Here inside the Cambodian rainforest, rushing waterfalls meet wild rivers and native creatures roam, giving you every opportunity to be awed by the planet's natural beauty, and a strong desire to preserve it.
Fortunately, your choice to stay at Shinta Mani Wild is a step in that direction. In partnership with hotel architect Bill Bensley, the camp was designed in such a way that no trees had to be cut down, the habitat is minimally disturbed, and funds go toward conserving the surrounding 865-acre private nature sanctuary. That includes defending it against poaching, mining and logging. If the idea of releasing captured wildlife, confiscating chainsaws or arresting poachers excites you, you're in luck: hop on a motorbike with an AK-47- armed ranger and get in on the action.
"Wellness treatments are all included"
For the less intrepid guest, there's plenty to do beyond zip-lining and anti-poaching patrols. Indulge your inner foodie by relishing the locally-sourced menus or taking foraging and cooking classes. Learn to identify butterflies from the 140-plus species that swirl in vibrant droves around the sanctuary. Swim in a waterfall, hike, or bird-watch until the last rays of golden light fall across the verdant landscape. And when you're all tired out, retreat to the privacy of your tent to relax with a drink and a head full of the day's unforgettable memories.
Shinta Mani Wild is an all-inclusive glamping experience meaning meals, adventures, drinks, wellness treatments, and everything else you can think of (with the exception of helicopter transfers) is included. So, once you've booked your stay, all that's left to do is go and take advantage of all there is on offer.
Desert Luxury Camp, Morocco
If you're looking to remove yourself from city life and find tranquillity in seclusion, then there's no place quite like the middle of a desert. The stretching sands, at once infinite and infinitesimal, invite a mood of introspection, the towering dunes, a feeling of awe. In the midst of this singular stillness, the warm and gentle winds can stir our own souls in a way that no other landscape can.
To experience the beauty of the desert without being subjected to its harshness is entirely possible. Case in point: Morocco's Desert Luxury Camp. Here, comforts of modern living like electricity and running water find their way, somewhat magically, into the remote midst of the wild sands, and the rich decor of the tents makes it easy to imagine yourself as royalty. When you're not at the camp sprawled across a mound of cushions and sipping on Moroccan mint tea, you can head out and enjoy the types of activities the Sahara affords. These include trekking across the dunes on a camel, sandboarding, or visiting a local Berber family to learn about the nomadic lifestyle.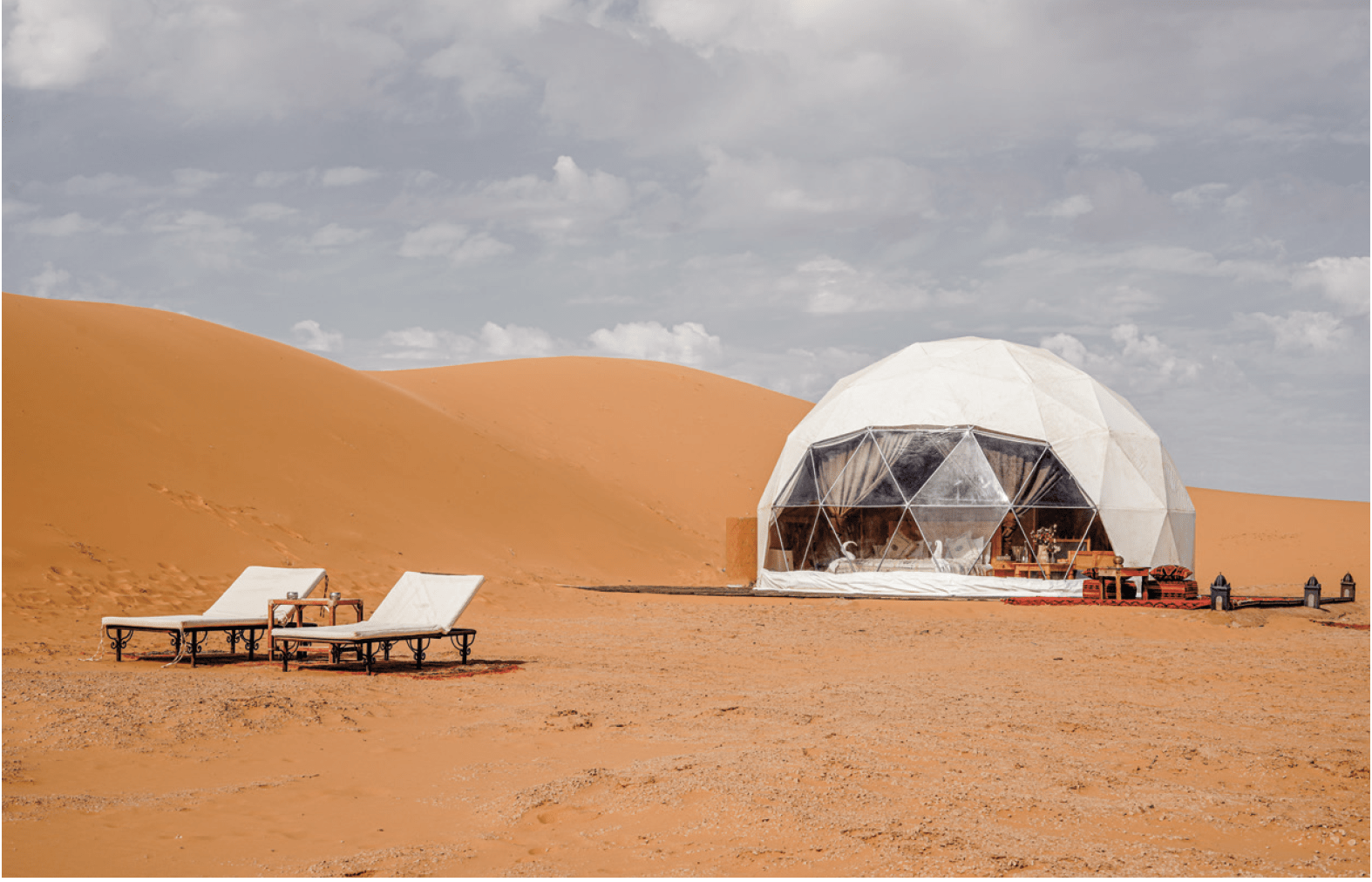 Accommodation is split into two locations. Erg Chigaga features a main camp of just eight en suite tents of 34 square-meters in size. Comfortable but not extravagant, you'll get more of a camping experience here than at some of our other recommendations. The more popular Erg Chebbi – set in a location known for its giant dunes that rise up to 150 meters in height – is also the more luxurious. Beyond the main camp of 16 tents and the superior camp, featuring four glass-fronted tents, there's also the royal camp: book into one of two 78-square-meter tents that are decked out with a jacuzzi and fittings stylish enough to please a discerning sultan.
If you're really intent on leaving civilisation behind and experiencing complete privacy, consider one of the highly secluded domed tents, which are available at both Erg Chebbi and Erg Chigaga. With just you, the stretching sands, and a sky full of stars to gaze upon, nights here are truly something else.
Four Seasons Tented Camp Golden Triangle, Thailand
Don't let the words "tented camp" fool you: the rough-hewn image they convey couldn't be further from the reality of this magnificent jungle getaway. Here, handmade leather furniture and hardwood floors give the tents a feeling of sumptuousness and solidity. Meanwhile, the vintage-inspired decor sends hearts fluttering with notions of old-world romance. If ever you've dreamed of going off-grid to an exotic location that indulges your fantasy of being a 19th-century explorer at every turn, then this is the place you're looking for.
Situated in the Golden Triangle, where Thailand borders with Laos and Myanmar, the camp's 15 tents are nestled into a bamboo forest-covered hillside, each with a treetop terrace that puts you intimately in touch with nature. Opt for a Deluxe Tent and you'll find your outdoor decking complete with a wooden hot tub that invites a long, lazy soak with a beverage and a view. An alternative is to take your sundowner at Burma Bar before making your way to the camp's restaurant, Nong Yao, where local flavours are served alongside Western dishes, leaving no whim unsatisfied.
The camp offers a wide range of activities, so you'll have little trouble passing more than a few glorious days here. Go boating along the Ruak River and fishing with local fishermen. Indulge in a chef-prepared jungle picnic. Get your blood pumping with a hike through the mountains or a hillside bicycle tour (there are no gyms or treadmills here, which is all the better). Or, best of all, let a mahout guide you through the camp's elephant sanctuary, where you can befriend the noble grey beasts, march through the wilderness with them, and observe their playful bath-time ritual.
Of course, there's also the option to just disconnect and relax. Indulge in a rejuvenating treatment at the lofty, open-air spa or sit on your private deck contemplating nature. There are no TVs in the rooms here, and that's a good thing: with views of misty mountains and roaming elephants as a more than worthy substitute, who needs one?
www.fourseasons.com/goldentriangle
Three Camel Lodge, Mongolia
Three Camel Lodge is the only luxury ecolodge in Mongolia's Gobi Desert. It's not all arid here, though: from rocky cliffs to golden sand dunes, emerald-green plains to wild flower-filled canyons, the surrounding landscapes are both stunning and diverse.
The camp itself is made up of 40 traditional felt and canvas tents called gers (also known as yurts), famed for being the strongest tent structures in the world. At Three Camel Lodge, they're also some of the most beautiful. The exposed wooden latticework that forms each tent's structure is complimented by hand-carved furniture and rich traditional tapestries – all meticulously created by the hands of local artisans.
Indeed, everything about Three Camel Lodge invites you to immerse yourself in Mongolian culture: preserving it is part of their mission. The staff here are all indigenous, food ingredients are all locally grown and sourced, and the long list of activities on offer includes things like nomadic archery, horseback riding, and even ger raising, where you can join in on the construction of one of these incredible local dwellings. If you're looking for a more restful activity, there's always yoga, a chef-led cooking class, or stargazing through one of the lodge's telescopes.
"It's all about immersing yourself in Mongolian culture"
As unforgettable as all these activities are, however, they may not even be the best part of your stay. That could be the inner transformation, the newfound tranquillity that settles over your heart and mind after visiting a place as unique as this. Unplug, surrender to your surroundings; visit the ancient petroglyphs that echo stories from deep within humanity's past and stand, absorbed, amidst the meditative atmosphere of the Gobi Desert. Lose yourself to find yourself in a place that's truly a world away.
———————————————————————————————————————————————————————————————–
Words by Tania Braukamper