What could awaken the senses more than cross-country skiing on densely packed snow, or enjoying a reindeer sleigh ride in the crisp, bright spring sunshine?
All of this and more is available at Kakslauttanen Arctic Resort, a stunning destination deep within the Arctic circle. When you visit is up to you, as Kakslauttanen offers something for everyone throughout the seasons. The iconic Northern Lights can be seen right up until late April, before summer kicks in and the Midnight Sun lights the glorious landscape 24 hours a day.
Between mid May and early August, the sun never sets. Free from the grip of winter the weather is perfect for outdoor activities, as the land bursts with new life. Hiking, horse riding or quad biking in the middle of the night under the glow of the midnight sun is an experience that will stay with you forever
Kakslauttanen Arctic Resort offers a whole range of incredible accommodation. From traditional log cabins to queen suites and 'turf chambers'. You can even stay in a century-old traditional house.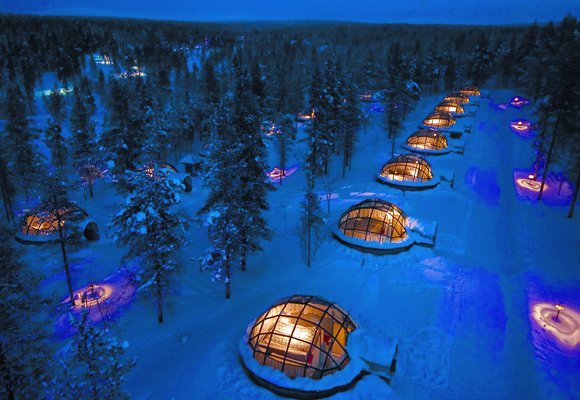 A recent addition is the Kelo-Glass igloos, which combine the comforting warmth of the resort's cosy log chalets with the sensational views of its world-famous glass igloos. A love of Lapland's wilderness is conveyed all around the resort, with themes and features capturing the essence of life in this remote and incredibly beautiful part of the world.
The cabins and igloos are set in the most tranquil of natural surroundings and are all walking distance from restaurants and other services.
The resort features several restaurants serving Lappish cuisine, a house for Santa Claus, an art gallery and a 30-metre-high igloo with panoramic viewing tower and bar.
Next year Kakslauttanen Arctic resort will open the largest planetarium in Scandinavia, it promises to be an incredible place from which to observe the dancing Northern Lights in the Lapland night sky. Θ
Further information
www.kakslauttanen.fi