StarChefs presents family easter with Michelin-starred chef, Tom Aikens
StarChefs is pleased to announce that their next at-home dining experience will be in collaboration with Michelin-starred British chef, Tom Aikens, for Easter. Available for nationwide delivery on the 1st, 2nd and 3rd of April, Aikens has prepared the ultimate family sharing menu to celebrate Easter at home with your loved ones.
Available to pre-order now from the StarChefs website, the box will include four courses of skilfully prepared, highly seasonal dishes to offer a modern interpretation of the traditional Easter lunch. As well as the meal itself, additional decorative touches, and crafts to get the kids involved are included, alongside clear instructions on how to reheat and finish the meal.
Working with the best British suppliers, the menu kicks off with a Soft scrambled egg with herb sabayon & maple syrup served in eggshells. Following this, diners can enjoy a Spring-like Asparagus & edible flower salad containing asparagus spears & shavings, soft-boiled quail's eggs, pea shoots, nasturtium, edible flowers & crumbled Wissington cheese, dressed with a lemon emulsion. In keeping with traditional Easter style, the main course will be a Roasted leg of lamb with roasted garlic, thyme & honey, which has been sourced from Lake District Farmers.
Dessert is a showstopper arriving in the form of a spectacular Chocolate egg to share with white chocolate mousse, poached rhubarb & meringue. An additional dessert option, especially designed for the younger members of a household, can be purchased as a supplement course and consists of Rhubarb jelly rabbits with vanilla crème & crushed meringue.
To ensure that your table looks set for the occasion, the box includes fresh daffodils, Easter bunting, and some seeds to plant after lunch. Tom and his family have also created a fun, four-hour long playlist accessible on Spotify, to set the mood. Additional wine and Champagne pairing packages will also be available to purchase through Wanderlust Wine.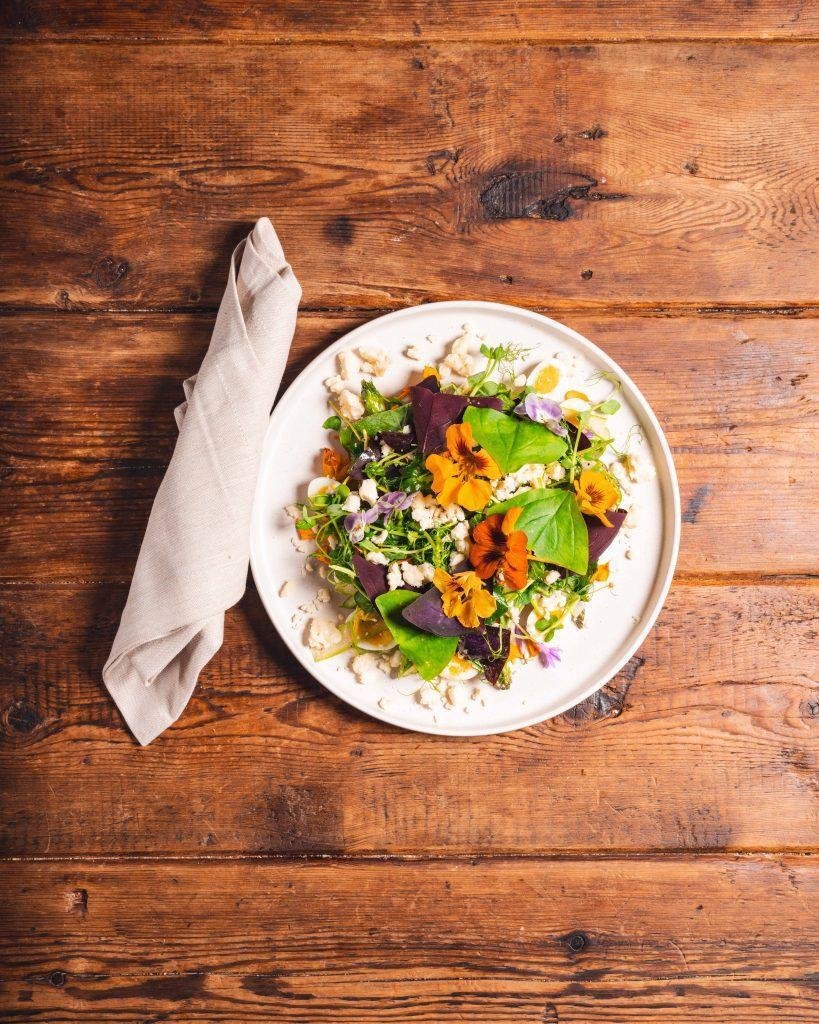 Speaking about his menu Tom said, "Easter is always a fun weekend in my house. My children love the excitement, especially when there is the novelty of chocolate eggs involved. Being a chef, you'd think mealtime would be a breeze but, between you and me, my daughters are not the easiest to please! However, they love for me to cook up a feast for us all to enjoy together, incorporating a few fun ingredients to wow them with, making family mealtime exciting and interactive. This is exactly what you can expect from my Easter menu – seasonal food with a sharing main and a fun dessert that the whole family will enjoy."
Boxes will cost £165 for two people and £285 for four people, including nationwide delivery. Jelly rabbits are a £10 supplement.
Further information