Crowning a rich family history of olive growing, Villa Nai 3.3 provides an island escape that embraces the Adriatic in all its beauty
Borne of nature and naturally made, the lavish Villa Nai 3.3 opened in July 2021 on Dugi Otok, a Croatian island halfway between Dubrovnik and Venice. A member of The Leading Hotels of the World, Croatia's most luxurious hotel boasts five deluxe rooms and three suites that blend harmoniously with the area's tranquil olive-growing terrain. All of the rooms and suites are decorated with furnishings by Milan-based Giorgetti, the innovative Italian marble bathrooms are by Agape, and the freshest Italian woven linen is by Frette. Villa Nai 3.3 also takes pride in ensuring its energy efficiency, with an A+ energy rating graded by the EU. 
With a one-of-a-kind design crafted by the distinguished Croatian architect Nikola Bašić, Villa Nai 3.3 is sculpted into the stone hillside. The excavated stone is repurposed into the hotel's interior and exterior walls, which substantially reduces the carbon footprint of the building process. The hotel is designed to blend in with the island's environment, conceived without corners, but shaped by elegant contours. Meticulous details are apparent throughout the interior, installed by carefully chosen producers and using materials that match the highest European quality and standards.
Rich in history  
Owned by Goran and Nives Morović, Villa Nai 3.3 is located in the village of Žman, surrounded by a 500-year-old olive grove where the Morović family has roots dating back to 1607. The entire olive grove, exterior, and even part of Villa Nai's interiors, are terraced by nearly five kilometres of unique dry stone walls – a UNESCO-protected building tradition that creates structures without a bonding material. Interestingly, half of the wall was built by Morović's ancestors, while owners Goran and Nives built the rest. Villa Nai 3.3 is located on a total of 40,000 square metres of private, ecologically precious land, giving guests access to 5,000 square metres of Croatian island paradise.
"Nai" is in fact an old Dalmatian word for snow, and provides a quirky and romantic name for the hotel. Dugi Otok once received around three days of snow annually – the perfect amount to produce a bountiful harvest of the Morović's globally award-winning olive oil, Nai 3.3. And even the olive oil spans the ages – it is produced from groves that are over a century old, as well as from newer trees. And all thanks to Dugi Otok's perfect olive-growing terroir. Guests at Villa Nai are encouraged to take part in activities in the olive grove and mill, including olive oil tastings, themed dinners, olive growers' gatherings and lectures. There are also many get-togethers, most of which are held in the autumn olive harvest months. 
Villa Nai's outstanding facilities allow guests to unwind in remote surroundings, with two seawater pools, a secluded exercise area, a tennis court, and a rejuvenating spa that combines cutting-edge technology with globally-renowned traditional treatments. Of special appeal are the innovative cold plasma treatments and homemade polyphenol-rich olive paste that enhance the Villa Nai spa experience.
Taste of the island  
Designed to delight gourmands with discerning palates, restaurants 3.3 and Grotta 11000 take diners on a gastronomic journey through the flavours of the island. Using only the very best local ingredients from respected producers, guests can enjoy Croatian fine-dining at 3.3, Here, imaginative menus are crafted using the world-renowned Nai 3.3 olive oil and wine pairings. Grotta 11000 honours the more simple food of Dugi Otok, where the island's first inhabitant, Šime, hunted and gathered some 11,000 years ago. Grotta 11000 offers top-quality meats and fresh Adriatic fish cooked over an open fire, enhanced by vegetables grown under the warm Mediterranean sun. An expansive wine list completes the menus, with both Croatian and global delights on offer, including the finest champagne and sparkling wines. Dalmatian wine and local varieties take centre stage alongside exquisite international wines. All have been chosen for guests to savour the essence of the hotel and its surroundings. The unmatched culinary experience goes hand-in-hand with the lay of the land and the olives at the core of Villa Nai's philosophy.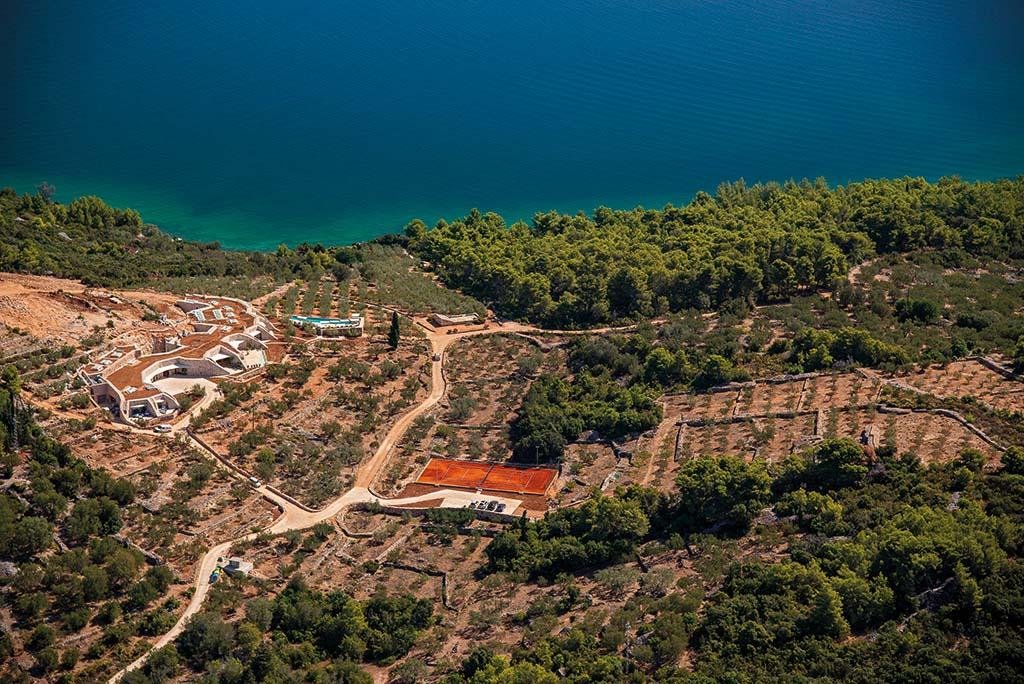 The island of Dugi Otok is located near the dreamy Kornati Island archipelago, where 140 uninhabited islands, islets, and reefs cover an untouched area of 300 square kilometres. It is also near the enchanting marine paradise of Telašćica Nature Park, Villa Nai 3.3 blends the best of the Adriatic with rustic Mediterranean allure. 
"Our guests live and experience all that this pristine coastline has to offer, including the Kornati archipelago, which is the densest island group in the entire Mediterranean. From the interior design to the delicious food – surrounded by our family's olive groves and centuries-old dry stone walls – Villa Nai connects the magic of nature with the finest service and produce," says Nives and Goran. The couple are proud to crown their olive oil story with the luxury of Villa Nai 3.3 on glorious Dugi Otok Island, where it all began.
For further information:
villanai.com