Experience the luxury of space, lush surroundings and sprawling sea views
Epoque Collection, a new luxury boutique hotel management company, is proud to announce the opening of its first meticulously selected five-star property, the beautiful and breathtaking OMMA Santorini. After a soft opening in 2019, the much-anticipated stunning and secluded hilltop hotel officially opened its doors June 1st 2021. Perfectly suited for an exclusive getaway with no surrounding properties in sight, this tranquil retreat offers just 25 intimate rooms and suites, five villas, a mouth-watering Mediterranean restaurant, a serene spa with natural cave-like treatments rooms, and a double level signature infinity pool all with harmonious designs, providing the ultimate luxury Greek island experience.
Dazzling design
From the outside architecture to the interior design, OMMA Santorini offers a journey of discovery through all the senses. With just 25 intimate rooms and suites and five villas, organised amphitheatrically around the element of water, OMMA Santorini provides an intimate hideaway for couples and families alike. Each of the five beautiful villas is blessed with a private swimming pool and sprawling sea views overlooking the Aegean Sea. The contemporary and timeless style throughout the hotel balances crisp white walls and clean-cut spaces against charcoal sun loungers and furniture to create a design that oozes luxury and elegance. Cycladic white buildings surround the extraordinary double infinity pool which is set across two levels and is amongst the largest pools in Santorini.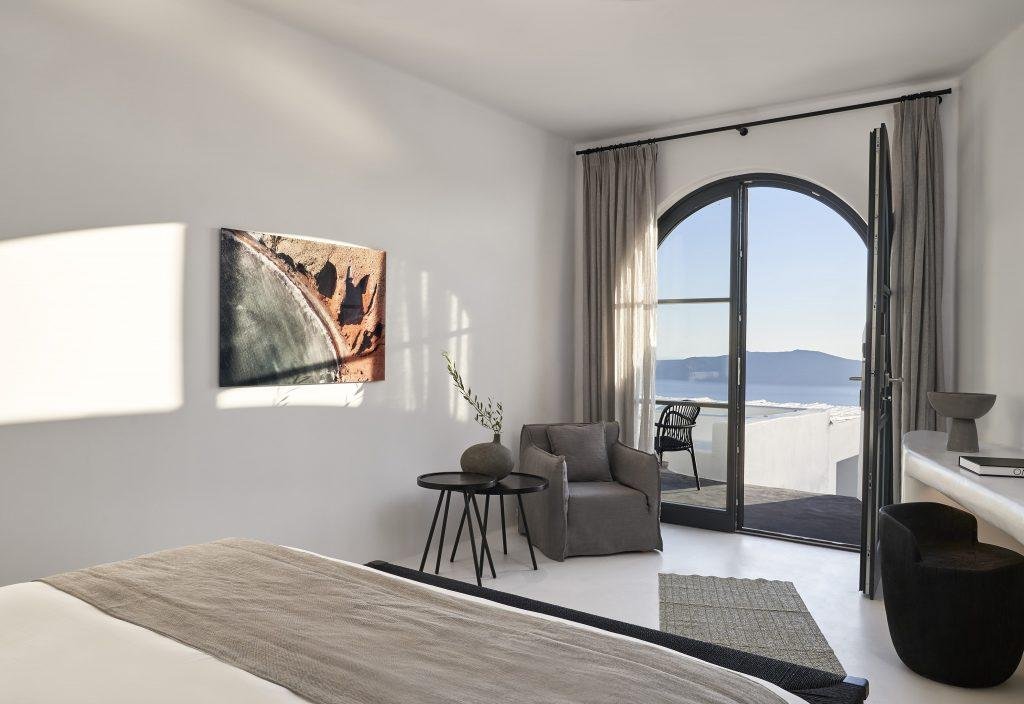 Tantalising flavours
Embark on an epicurean journey of tantalising flavours at the brand new OMMA Restaurant where the very best Mediterranean cuisine is served in a picture-perfect setting. Bringing his Michelin Star expertise to the shores of Santorini, Executive Chef Dimitris Stamoudis beautifully blends authenticity with refinement to create a selection of traditional Greek dishes served with a modern twist providing a delicious range of mouth-watering Mediterranean delights. Using high quality fresh, local ingredients to elevate each dish, guests can expect exquisite shrimp risottos, decadent lamb fricassees, fresh lobster, and delectable salads all paired with a carefully selected light, fruity glass of wine. For those who enjoy days spent soaking up the sunshine and lounging by the irresistible infinity pool, the all-day pool bar offers an array of refreshing drinks and cocktails to sip alongside delicious light meals and homemade popcorn.
Sooth the senses
After a long day of sun-soaked excursions, unwind at the OMMA Spa and embark on an unforgettable journey of wellbeing and personal serenity which aims to sooth all the senses. Perfectly placed in a remote and peaceful setting, guests will step into the spa and become immersed in the tranquil and ethereal ambience of the three natural cave-like treatments rooms. Having exclusively partnered with UK brand Elemis, the dedicated Elemis Spa Therapists will offer a number of bespoke pampering treatments including OMMA Signature Spa Rituals, advanced face therapies, detox and nourishing body treatments, as well as men's facials and couple's massages. Continue to elevate the mind and body's path to discovery at the state-of the art- fitness suite with a workout fit for the soul.
Unforgettable island experiences
OMMA Santorini provides an oasis for those in need of slowing down, but beyond this luxury hideaway is an enchanting island with endless opportunities for adventure. Attentive staff will curate personalised itineraries to gently guide guests through an unforgettable trip of a lifetime. Reach new heights in a helicopter ride, hike across volcanic landscapes or explore the dramatic shores of Santorini by sailing on the Aegean Sea. There is something for everyone on this unique island, whether slowing down to enjoy wine tasting or visiting the island's very own volcano to bathe in the thermal springs. Whatever the desire, exhilarating personalised experiences await at OMMA Santorini.
Breathtaking location
Surrounded by lush greenery, dazzling seascapes, and with no surrounding properties in sight, OMMA Santorini promises a feeling of sanctuary with boundless luxury, providing a place to escape in pure privacy and peace. Located just a short 20-minute drive from the airport, OMMA Santorini's location is one of the many things which sets it apart. Based in the northern part of the island close to the town of Imerovigli, guests will enjoy spellbinding 360-degree sparkling sea views of both the Caldera and the Aegean Sea. Prepare to be amazed by the shimmering sunsets and serene sunrises, creating infinite memorable moments, to last a lifetime.
Covid-19 safety protection policy
To ensure maximum safety and peace of mind for the ultimate post-pandemic getaway, OMMA Santorini will be introducing a number of safety measures and flexible cancellation policies. Already privileged with spaced out rooms and suites, the layout of the pool and dining areas will be carefully dispersed with social distancing in mind. Expect temperature checks on arrival, disinfested key cards and OMMA safety kits in each room. Frequent cleaning protocols as per WHO standards will take place behind the scenes and guests can rest assured that all sanitary measures have been put in place to reduce the risk of any transmission.
As with every property in the Epoque Collection group, OMMA Santorini strives to ensure guests experience this extraordinary destination through the eyes of a local. Offering the highest standards of hospitality, ultra-personalised guest service and a desire to cater to every need, Greek generosity is bought to life at this exceptional sanctuary.
Nightly rates at OMMA Santorini start from 670 euros
Early Booking Offer – Book now and receive 15% off all room types for a stay in 2021. Valid for all stays during 2021.
Free Night Stay Offer – Receive a complimentary night at OMMA Santorini when booking a five or seven night stay. Stay five nights, pay four. Stay seven nights, pay five. Valid for stays in June 2021 and between 15th August- 15th October 2021.
Further information