Arriving on a dull Sunday afternoon, it's hard to miss the wide opened doors of the bar under the arch at Deptford Bridge known as 'Little Nan's' On entry my eyes can't work out where to look first. There is something to see everywhere. This place is utterly cluttered in the best possible way – kitsch, vintage and cool! A wonderland of the original Londoner, there are plenty of references to memories of decades gone, royal memorabilia and the TV soap Eastenders similarities including the Pat Butcher busy sitting at the bar.
I'm seated at a small table in the corner of the room on mismatched chairs under the tassel floor lamp, and immediately felt at home. The interior of this place makes sense when I learn of the origins of the bar. It was set up by Tristian Stutt and his fellow grandchildren in honour of their late grandmother known affectionately as Little Nan. They opened the bar in 2013 using of her furniture, ornaments and heirlooms to kit it out.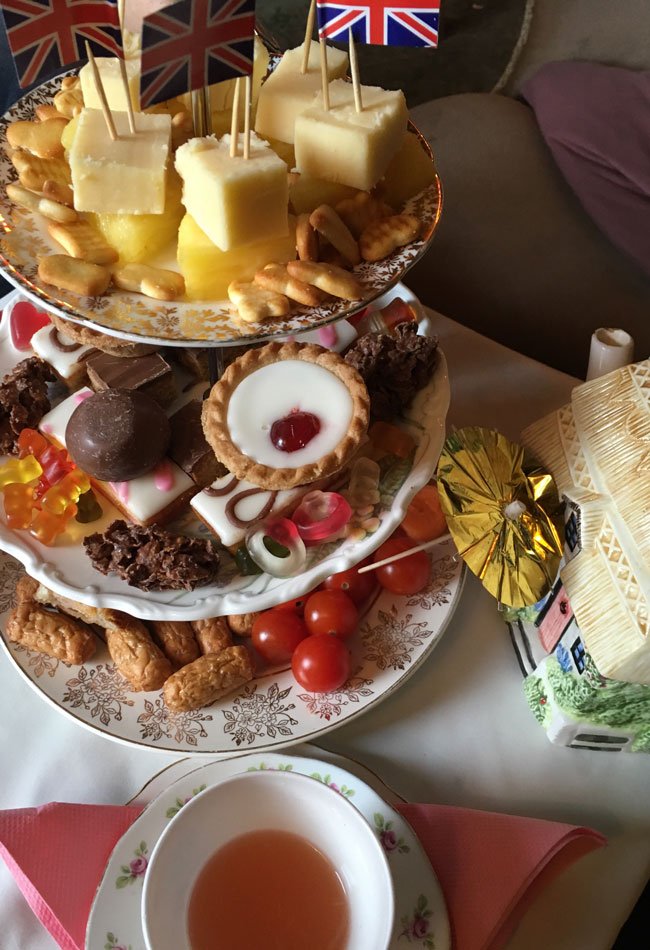 I'm booked in for a 'Bottomless Boozy Brunch' which includes, as the name suggests, bottomless booze. Food is served on a three tier cake stand.
Don't expect gourmet morsels here, but all the treats your own old nan may have spoiled you with when you went to visit. The cherry bakewell cakes, cocktail sausages, tea cakes, and cheese and pineapple on sticks to name a few.
Looking through the cocktail menu, which is presented in the inside of old Beano comic books, they have 60 cocktails to choose from! They've been named after Little Nan's favourite celebrities, locals, and soap stars such as Lady Pat Butcher, Lord Roy Walker and Deptford market Mojito.
For the booze part of my brunch I go for a cocktail called 'Deptford Arms Teapot Cocktail' and true to its name, comes served in a teapot with bone china teacups and saucers.
I then sit back and enjoy my time listening to the disco tunes and taking in the homely atmosphere.
If you're ever over that way be sure to check them out! Oh and don't forget to check out the leopard print explosion that are the loos in this place!
Further information
www.littlenans.co.uk