You'd be forgiven for walking straight past Palm Vaults in Hackney. Although well known, it's pretty hidden away amongst an average looking high street. From looking at the exterior you can get a feel for what it's going to be like inside. When I think of my dream room, I imagine it to be exactly like what greets me as I enter inside this independent café.
I'd describe it as a pink and green palace, full of vintage inspired furniture and decor. From the velvet pink chairs to the beautiful hanging greenery, and the marble topped tables to the vintage gold accents, this place transports you a million miles away from its inner city location.
With a menu as colourful as its interior, Palm Vaults offers a wide range of specialty teas and coffees – rose or lavender matcha latte anyone?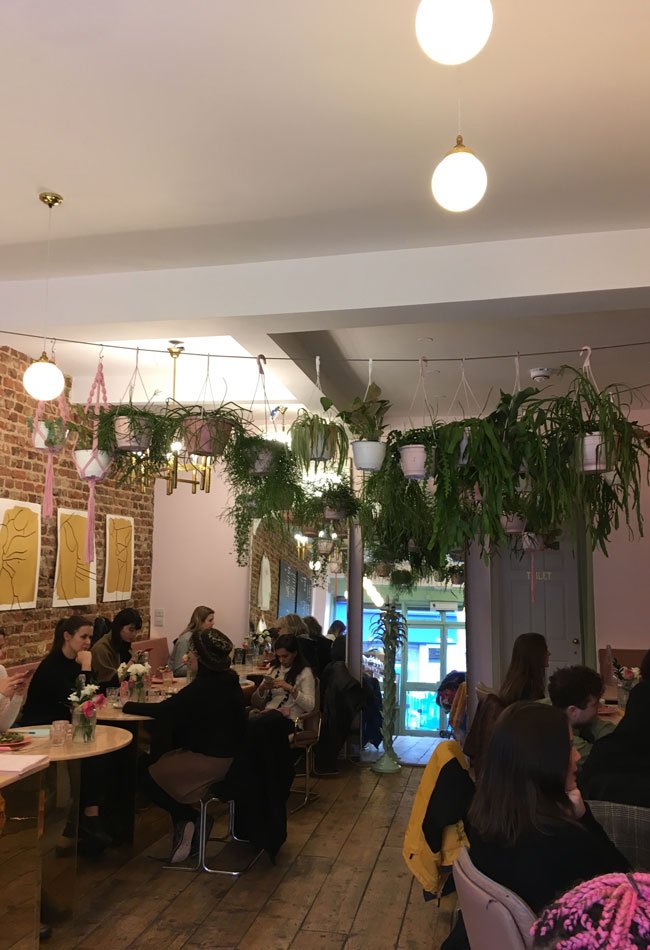 There's also your choice of milk for the drink you choose including coconut, oat, soya, almond and cashew.
Food wise, they offer a range of healthy dishes including the classic smashed avocado on sourdough toast, with lots of healthy topping options. There's also a few delicious toasties to choose from, or you could try my personal favourite 'She's on Fire' containing Palm Vaults own chilli jam, goats cheese and Jalapeño's.
If there's still space for cake, you can opt for a slice of colourful, freshly made gluten free cake.
But if there's only time for a takeaway drink, you know it'll be put in a fabulous pink and palm print takeaway cup!
Palm Vaults
411 Mare Street
E8 1HY
Nearest tube : Hackney Central overground
Mon – Weds : 7:30am – 6pm
Thurs – Fri : 7:30am – 8pm
Sat : 9am – 8pm
Sun : 9am – 5:30pm