4 Christmas tipple options to try this festive season
Are you looking for new alcoholic tipples to try and enjoy during the festive season?
Well, you are in luck as in this article, we are going to give you some suggestions you can try!
Gwalarn (meaning North West Wind)

Origin: France
RRP: £35.99
For something a bit different we recommend this Celtic whisky from Brittany in France. The nose is rich and opulent with the first powerful notes of grain and slight peat give way to an aromatic palette combining the sweetness of vanilla, the complexity of leather and smoky tobacco and some honey. In the mouth, the honey extends supported by slight peat and saline notes with aromas of gingerbread combined with flavours of candied fruit.
Availability: The Whisky Exchange
Sagamore Spirit – Double Oak Rye
Origin: Baltimore, Maryland, USA
RRP: £69
This is a fantastic example of a Baltimore rye, slightly sweeter than other rye's with a higher corn content from a brand that is fast becoming popular in the UK and last year this rye won a Master of Category medal in the UK in the American whisky category at The Drinks Business & Spirits Business Spring Blind Tasting. The secret to this Double Oak Rye is 18-months of extended ageing time in toasted wave stave barrels, making this whiskey at least seven-years-old. Delightful notes of caramel, honey, hazelnut, and pecan explode on the palate.
Availability: Native Spirits, Whisky Exchange, Master Of Malt 
Nouaison Reserve – Maison Villevert
Origin: Cognac, France
RRP: £37.45
This dark gin made from grapes rather than grain is barrel aged in oak barrels containing cognac creating an ideal spirit to add a new dimension to classic cocktails like the Old Fashioned, where gin rather than whisky can be used to create an excellent and unexpected gin cocktail for your Christmas guests.
Availability: Whisky Exchange
G'Vine Floraison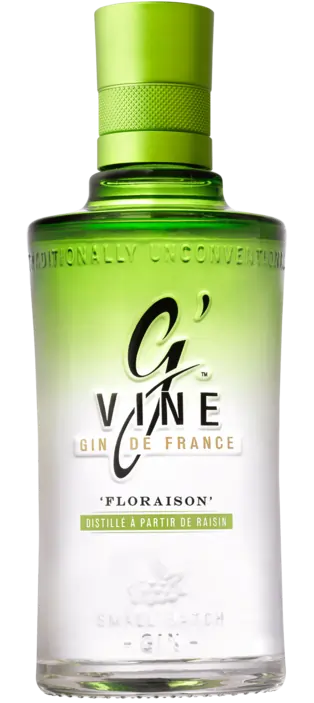 Origin: France
RRP: £35
About: Created in 2006 by Jean-Sébastien Robicquet. this gin is made from grapes which results in a more fresh, smooth and rounded taste. The gin contains vine flower to add floral notes, handpicked once a year, in mid-June, when the vine flower blossoms for just a few days to preserve its delicate fragrance.
Availability: Master of Malt and Amazon and Fenwick