The winter edition of the Luxury Report brings so many exciting destinations to visit for the holiday season, here are just four of them.
Antarctica
There is a whole planet to experience, but nothing quite like the exhilarating expeditions at the very bottom of the world. It often seems Antarctica simultaneously belongs to no one and everyone, as its ethereal land captures the heart of travelers but has no permanent residents. If you're not already familiar with the luxurious Three Glaciers Retreat nestled below the Ellsworth Mountain Range you'll soon discover its appeal as the newest addition to Antarctic Logistics & Expeditions' (ALE) collection of deep-field experiences. The retreat collection is comprised of 8 elegant and comfortably warmed tents brushed in the chanterelle hues of 24-hour daylight.
Antarctica's great white expanse is filled with an intrinsic vitality that has been inspiring explorers for centuries. Guests can look forward to guided journeys that include options of fat-tire bike excursions, cross-country outings, overlanding to the wind carved waves of Drake Icefalls, snowmobiling into the alabaster interior, picnicking in spectacular locations, or skiing private slopes. There are options to book a private flight to the Emperor Penguin colony with endless photographic opportunities or visit Mount Vinson base camp to see the highest peak in Antarctica. Get ready to meet your new adventure addiction. 
Where adventure meets wellbeing
The addition of Three Glaciers Retreat adds an even more bespoke approach for ALE guests that rivals the world's most upscale hotels. A place that combines wellbeing with adventure, set against a striking landscape often described as magical by those who set foot there. Retreat seasons run from November to January and bookings are limited at this 16-person private retreat. Guests arrive at the secluded Three Glaciers Retreat after a short flight from Union Glacier camp where they are welcomed with warm smiles and cold bubbles. Retreat hosts and staff consist of some of the most experienced guides and service professionals in the industry. Contributing to ALE's world-class destinations well suited to elite adventurers, corporate getaways, celebrities and groups of all levels. A customised itinerary is prepared for each guest, or they have the option to keep it flexible, sipping whiskey from the deck of the dining tent with Mount Sporli as a backdrop.  
This is a place to power off and tune in. A place where the hum of the world melts away and there is a reconnection to individual existence. The deafening silence and auditory sensations are one of the most underrated aspects at the edge of the world. "How many people can say they've listened to the profound quietness of nature recently?" poses Aviaaja Schluter, one of ALE's Guest Services Managers who cater to visitors at Three Glaciers. She muses on the ability of staff and guests to immerse themselves in the calm quietness unlike any other place on Earth. Travel connoisseur's enjoy their down time away from personal and professional demands, dining on freshly smoked Chilean salmon served with a delicious beurre blanche. "Our menu will blow your taste buds away." Schluter says. "Good wine in your glass and conversations with stories from all over the world will shape your evening." But there's so much more, with incredible accommodations and an impressive culinary menu to match, guests will not be disappointed by the perfection created by the expert team.  
Opatija
Close your eyes. Take a deep breath and imagine your ideal holiday destination. Do you dream of crystal-clear sea, the waves gently rocking the yachts and boats in the marina, luxurious beaches bursting with life, and secret hidden coves? Or fresh mountain air fragrant with the scent of pine needles and aromatic grasses, and long walks along shaded forest trails that lead through ancient landscapes? Or maybe you seek adrenaline-filled sport activities, paragliding from a peak that is 1500 metres high, or cycling and trekking trails designed for the adventurous? Maybe even culture to rank alongside the great European metropolises, a tourist tradition that is nearly 200 years old, and true architectural masterpieces?
There is a place in Croatia that can offer you all of this: Opatija. This destination has an aristocratic appearance, yet simultaneously boasts wonderful, natural surroundings, embodies an open spirit, and is inhabited by people happy to share their good fortune with guests from all over the world.
Out and about in Opatija?
Walking along the Lungomare coastal promenade is always a wonderful experience. It stretches for 10km and connects all the places on the Opatija Riviera. As such, this paved promenade passes by villas with beautiful architecture, great beaches, small secluded bays, and excellent restaurants and bars. There are also footpaths connected with the Carmen Sylva forest trail and the peaks of Mount Učka. The promenade starts in Volosko, a fishing village whose stone houses surround a small harbour in the centre, and around which a number of prestigious restaurants have sprung up with unrivalled fresh fish, seafood and great wines.
The Lido and Angiolina beaches in the centre of town represent two different pages in the story of Opatija. The Lido is a luxurious, modern resort, while the adjacent Angiolina replicates a historic, aristocratic wooden bathing establishment. Both offer wellness facilities and great food!. Lovers of active holidays adore Mount Učka and its mountain trails and forest paths, its climbing routes, and the opportunity to descend from the top by paraglider or hang glider.
The yacht marina in Ičići is a major draw for those who love sailing, as are the numerous small harbours. As far as night life is concerned, besides the night clubs and bars, there are two venues that are ideal summer destinations. One is the Open Air Theatre, the most beautiful outdoor stage in the Adriatic which during the summer months hosts numerous festivals and performances of musicians from all over Europe. The other is the largest night club in Kvarner, which is located in the Gervais Centre.
Sensory delights
The cuisine on the Opatija Riviera uses local ingredients and changes in line with the seasons. Kvarner scampi, exclusive to the area, are known all over the world and can be prepared in a variety of creative ways, including the ever popular à la buzara. Spring is dedicated to asparagus, that wild forest plant with a fantastic flavour, and summer to seafood, while autumn sees the marun harvest, a delicious kind of sweet chestnut that grows only on the slopes of Mount Učka.
Joy of the seasons 
Opatija is a great destination that can be visited at any time of the year, with numerous events, attractive beaches, and things to see all year round. One of the most popular events for visitors and locals alike is RetrOpatija, an event which illustrates the long-standing connection between Opatija and top-class music, and which takes place at the end of June. Throughout its history, Opatija has hosted several important music festivals, and RetrOpatija recalls various musical eras, from the swing of the 1920s to the disco of the '80s and '90s.
During RetrOpatija, various musical events take place at numerous locations throughout the town. Opatija's main street is particularly attractive during this event, as it is closed to traffic, and hosts craftsmen, traders and vendors, who together make up an exciting and colourful scene for thousands of visitors. Opatija is also especially beautiful in winter when the town is decorated in a romantic white cloak. At this time, the parks, squares and streets are lit up by hundreds of illuminated decorations, the Open Air Theatre becomes a winter garden with a skating rink, and the Advent programme offers musical performances, children's workshops and various other events at locations throughout the town. Advent in Opatija is a more intimate event than the seasonal celebrations in larger towns and is distinguished by a special festive Christmas atmosphere and carefully chosen programmes.

Alta Badia
Have you ever considered investing in an exclusive real estate in one of the most renowned alpine tourist areas? If you haven't already heard about it, we would like to introduce you to the Alta Badia, an authentic and unique place, considered as a real jewel in the Italians Dolomites (UNESCO world heritage site). This Valley hosts the Alpine Skiing World Cup, and it is mentioned and referred to in a lot of magazines for the quality of hotel facilities, restaurants as the three Michelin Stars "St. Hubertus", and it has become famous for the beauty of these red peaks and the breath-taking landscapes.
In the Winter season, you can't considerer to use your pair of ski and experience the Sella Ronda ski tour, through the Dolomiti Superski, the more significant connection of ski areas of the world, with over 1.200 km of the gourmet slops. If you want to try a different experience, you could also try to reach the incredible gourmet lodges walking with snowshoes or using your fat bike.
In Summer the weather is ideal, for hiking, climbing or just cycling, maybe using the E-bikes through the streets and paths become legendary during the Giro d'Italia. In this incredible location, we have selected Edelweiss.re, a dedicated and dynamic company with a passionate knowledge of the real estate market that offers exclusive, high-quality property services.
Corvara – Alta Badia
A new Penthouse with three large bedrooms, three bathrooms, a large living area with fireplace, minimal windows, mezzanine, a designer kitchen and a large sunny balcony with a small swimming pool. In the basement, there are available three parking spaces, a private cellar, ski storage, laundry and a gym. Home automation, Led lights, exclusive finishing touches and materials used. The surface is around 235 sq. m. gross.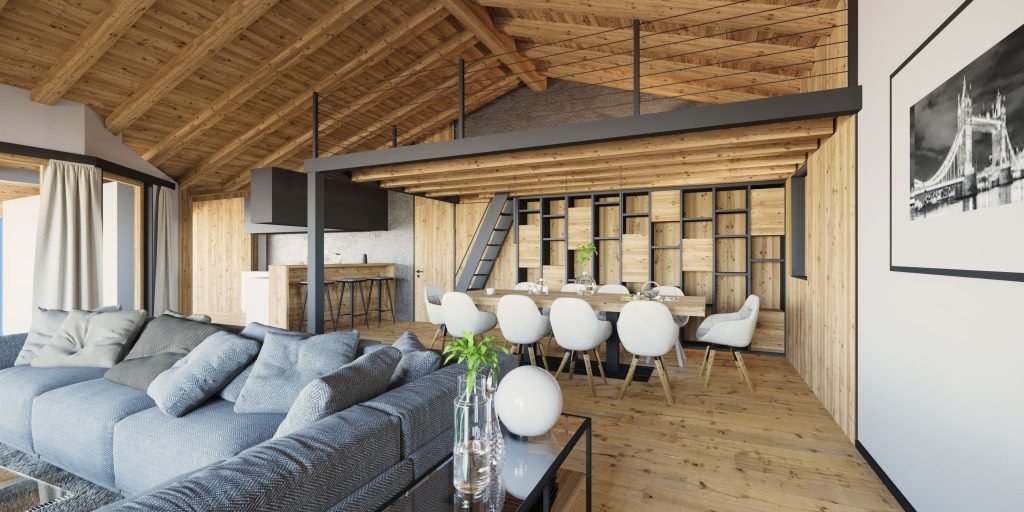 Cima Fanis – Luxury Penthouses in San Cassiano
In the town of San Cassiano in Badia, inside a new real estate development, there are available three exclusive duplex-penthouses, where you will enjoy the mountains from a privileged perspective. Clean, modern features characterise the properties and enhanced by the use of natural materials, adorned as if it were tailor-made.
Prague
With Christmas soon approaching, with snow-capped castle and baroque rooftops, atmospheric markets and array of winter activities, the Czech capital makes the perfect seasonal getaway. And what better way to start your vacation by checking in at Hotel Paris Prague. This 5-star accommodation has 86 welcoming rooms, as well as luxurious apartments and suites, all housed in a landmark 20th century building. With its renowned art nouveau facade, this sophisticated, yet cosy hotel also offers rejuvenating spa treatments and elegant in-house dining – it's the ultimate retreat from the winter cold.
The Hotel Paris Prague's city centre location is another great reason to stay. It's minutes from Prague's UNESCO-listed Old Town Square and its host of seasonal markets, where roasted chestnuts, mulled wine, traditional handcrafts and festive cheer are the order of the day. It is also within walking distance of yet another iconic Prague pastime – open-air ice skating. The area's largest rink is located on the site of a former medieval fruit market, Ovocný trh. Dating back to the 13th century, this quiet square is transformed into a winter wonderland from early December until the end of January. Complete with skate rentals and refreshments, it's a great place for visitors and locals to mingle.
Want to know the best part of exploring snowy Prague? Warming up with a hot drink in one of Prague's stylish cafes. Hotel Paris Prague is home to Café de Paris, a nod to the French cafes of the 1920s in both decor and cuisine – so enjoy a welcome break from the bustling city with cocktails and light bites. Indulge in the house speciality, Cappuccino Hotel Paris, made with thick whipped cream and a slice of Chocolate Paris Cake – the recipe is unchanged since 1904.
Another tip for culture lovers? The National Theatre should not be missed for its programme of opera, traditional Laterna magika theatre, and performances of The Nutcracker ballet throughout December.