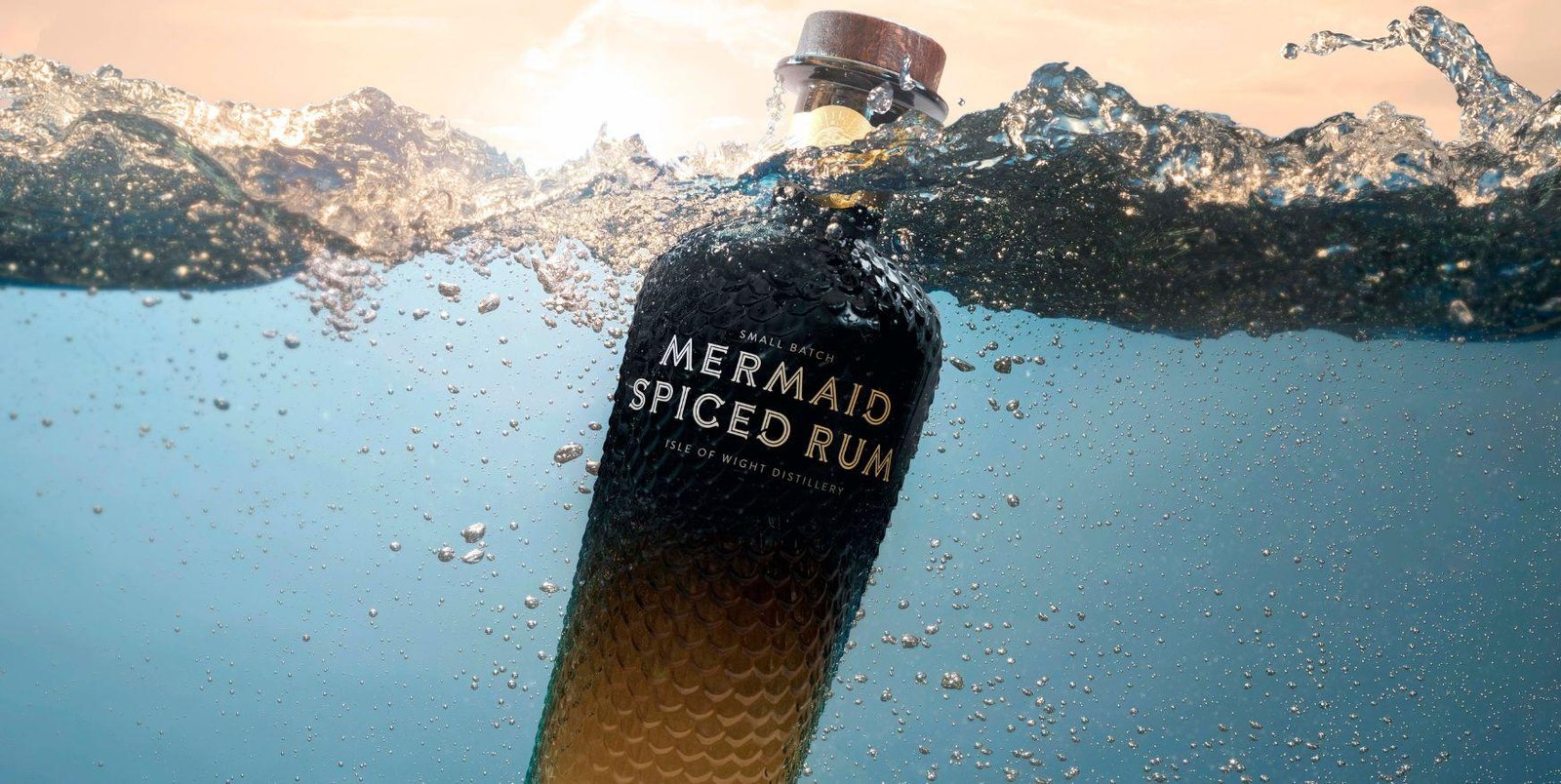 From the Islands of the Caribbean to the Isle of Wight, Mermaid Spiced Rum Launches in the UK
The Isle of Wight Distillery today announces the launch of Mermaid Spiced Rum, marrying Caribbean rums from Trinidad and the Dominican Republic with local fruits and spices from the Isle of Wight. Mermaid Spiced Rum will be available in two sizes, 70cl and 5cl. The 70cl bottle of Mermaid Spiced Rum is available from £38 from Isle of Wight Distillery's webshop and exclusively via the John Lewis App for a two week period from 1st March to 14th March and on John Lewis online and in store after that. Mermaid Spiced Rum is the fifth edition in the Mermaid spirit range, which includes Mermaid Gin, Mermaid Pink Gin and Mermaid Zest Gin, along with Mermaid Salt Vodka.
In keeping with the distillery's ethos of minimising waste using ethically sourced and wild-foraged ingredients, Mermaid Spiced Rum is produced in harmony with the Island's coastal elements. The Caribbean rums are infused at the Isle of Wight Distillery with their signature botanical rock samphire, fresh white cherries, apricots, honey from their beehives and black salt from the Island's coastal flood tides. The rum is gently spiced with local holy grass, cassia and vanilla resulting in a smooth yet complex rum with a hint of sea air, delicate caramel notes and vibrant fruity spice. A tropical island blend made for sipping on island time.
Mermaid Spiced Rum is crafted from a carefully selected blend of sugar cane and molasses from sunny Trinidad and the Dominican Republic, distilled in column stills and aged between 2-5 years in oak bourbon whiskey barrels. The unique spirit was inspired by a long history of Caribbean rums landing on Isle of Wight shores. In 1836, wooden sailing ship the Clarendon was driven ashore to the wild South-West of the Wight in a fierce storm. Voyaging from St Kitts with a cargo of rum, sugar, molasses, coconuts and turtles, the ship and near all of those who sailed in her perished, despite local fishermen's attempts to save the souls of the shipwrecked. A young woman was washed ashore at her father's garden in Southsea, inciting stories in local folklore of mermaids returning her home to rest. So great was the disaster that now famed lighthouse St Catherine's Point was constructed, while the ever-industrious islanders saved, sold and imbibed the rum, and repurposed the ship's timber for an inn, renamed in its honour. 
To honour history and folklore, the Isle of Wight Distillery set to creating a spirit with a character of bravery, courage, Caribbean sunshine and wild coastline.
Xavier Baker, Co-Founder of Mermaid Gin says, "We are delighted to announce the launch of our Mermaid Spiced Rum and offer a slice of tropical coastal charm. After a good few years of research, we've created a rum that encapsulates our Island life. It now feels right as the rum category is growing in popularity, both in households and in bars and restaurants. We hope this new edition will be as well received as the other spirits in our Mermaid portfolio."
Mermaid Spiced Rum is a full-strength rum presented in a striking black and clear bottle, with golden rum shining through. The bottle design is based on a Mermaid's tail and mirrors the design of the gin and vodka bottles in the Mermaid spirits range. The plastic-free bottle has been crafted from recyclable glass and features a sustainably sourced natural cork stopper and tamper-proof seal made from corn and potato starch, which composts in food waste recycling within 6-12 weeks. The label on the neck of the bottle is crafted from recyclable, biodegradable paper whilst the bottle is also re-usable and recyclable.
Tasting Notes
Style: Smooth, rich and sophisticated
Nose: Soft vanilla with gentle spice
Taste: Honeyed caramel notes, vibrant cherry and sea salt finish
Finish: Long, warm and complex 
Perfect Serve: Mermaid Spiced Rum Ginger 
Fill a glass with ice, add a measure of Mermaid Spiced Rum and top up with Ginger Beer or Ginger Ale. Garnish with a fresh mint sprig and a maraschino cherry 
35ml Mermaid Spiced Rum | 20ml Banana Liqueur | 15ml Chocolate Liqueur | 75ml Oat Milk. Garnish: A melted vegan-chocolate rim, finished with a slice of caramelised banana.
Roll ingredients in an ice-filled shaker until frosted. Fine strain into a coupe and garnish.
Mermaid Spiced Rum RRP From £38 for 70cl ABV 40%.
Mermaid Spiced Rum RRP £7 for 5 cl ABV 40% (Available from April)
Available from Isle of Wight Distillery, John Lewis App until 14th March and John Lewis online and in store after that.
Further information
Isle of Wight Distillery | @isleofwightdistillery