If you're ever in Walthamstow, East London, I recommend you go along to a quirky and unusual hidden gem called 'Gods Own Junkyard'.
It's nestled away on an industrial estate, but you'll feel a world away once inside.
Gods Own Junkyard is a full blown neon-lit heaven put together by the gone, but not forgotten, Chris Bracey.
You'll be in awe of the bright lights, made up of cool neon artwork, old fairground lights, salvaged street signs and old movie props.
Once I'd looked around every corner of this neon wonderland, and took plenty of (very instagrammable) photos. I then ventured further and made my way to the "Rolling Scones" cafe further inside.
It serves cream tea or Gods Own coffee and cakes. I sit inside amongst all the lights, but diners can also sit outside in the gravel floored gardens.
If cream tea isn't your thing, you can opt for something a bit stronger from their fully licenced bar.
If you need the bathroom you can expect to find yourself in a transformed Tardis a la "Doctor Who" also lit with changing colour lights.
You'll want to take away everything, but if your budget won't stretch to a giant disco ball or colour changing chair, you can leave with your very own Gods Own Junkyard t-shirt for £15!
Gods Own Junkyard and Rolling Scones cafe are open on Fridays 11am-9pm, Saturdays 11am-9pm and Sundays 11am-6pm.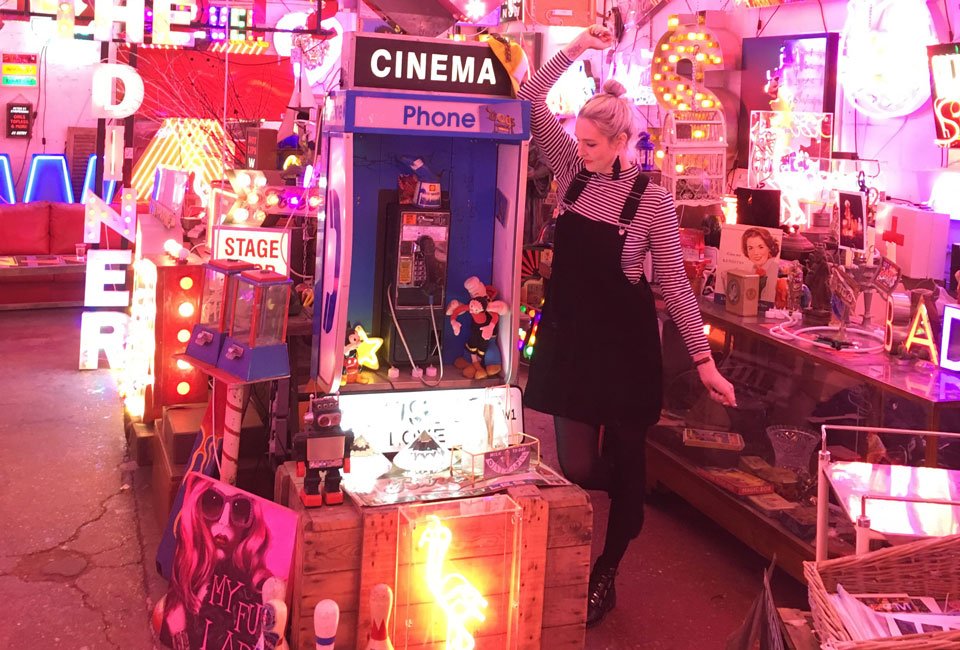 Gods Own Junkyard
Unit 12
Ravenswood Industrial Estate
Shernhall Street
London
E17 9HQ
020 8521 8066
020 8509 0157
www.godsownjunkyard.co.uk