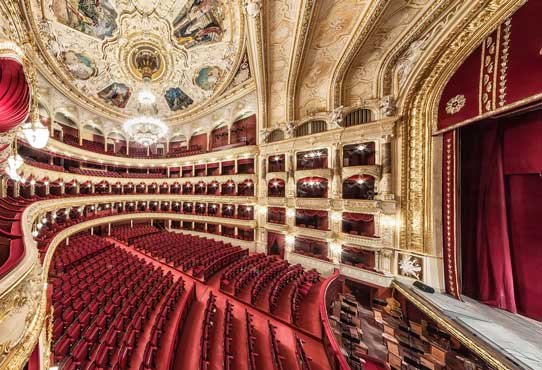 Opera, by definition, is an art that lends itself to opulence. Every element of it strives for drama, for greatness: the sensational storylines, the soul-stirring arias, the costumes and sets and presence of a live orchestra. It follows that they should be performed, too, on stages in buildings of great opulence and drama. The beauty of the theatre forms part of the experience.
This tradition has lead to the creation of numerous impressive opera houses around the world, with so many of them worth paying a visit to whether just to gaze at the intricacies of their facade or to take your place on a velvet-covered seat as a grand storyline unfurls before you in song.
Typically considered some of the most beautiful in existence, here are 5 such opera houses.
La Scala, Milan
From the outside La Scala looks almost austere, but the interior horseshoe of red velvet and gold embellishments is something else entirely. And besides, the beauty of the famed Milanese opera house is tied up with its history and reputation. Regarded as one of the leading theatres in the world, La Scala's stage has, over the course of more than 200 years, hosted many of the the greatest singers, composers and conductors you could think of. It's the place where Verdi made his name; where Maria Callas made her official debut; and where even today you need to be lightening fast to snap up tickets when the opera season is in swing.
Palais Garnier, Paris
The Palais Garnier is a picture of French decadence. Everywhere you look, the interior of the beaux-arts building glitters with ornate details, from marble pillars to Venetian mosaic ceilings. Winding staircases that look down from the Grand Foyer to the Palais' entrance were deliberately designed for people-watching: in the early days of the opera house, rich guests came specifically to see and be seen. The Palais Garnier is also famous thanks to Gaston Leroux's The Phantom Of The Opera. In May 1896, a counterweight from the 7-ton bronze and crystal chandelier that was centerpiece to the ceiling broke free, killing one audience member and later inspiring one of the story's most well-known scenes.
Sydney Opera House, Sydney
For a building to become a global icon, it helps if its likeness can be reduced to a recognisable silhouette or few rough lines. Perhaps that, more than anything else, is what makes the Sydney Opera House such an ingenious design. The roof was envisaged to resemble a series of ship's sails that rise above the blue waters of the harbour, and their iconic, shining surface was constructed using over 1 million specially-created ceramic tiles. It may not be the traditional picture of a decadent opera house, but this modern construction has a definitive beauty of its own. Tours of the building are available regardless of whether you attend one of its 3,000-odd annual events or not.
Margravial Opera House, Bayreuth
Stepping into this extravagant Baroque building is like stepping back into the 1700s. In fact it's one of the few remaining examples of its kind and is so well-preserved it's been listed as a UNESCO World Heritage site. Inside, the blue and gold Baroque furnishings are a marvel of detail that could well steal your attention from whatever's on stage. The house is also famous for its association with Wagner, who moved to the German town in 1872 on account of the marvellous theatre.
Teatro Colón, Buenos Aires
Ornately beautiful and technically impressive. The acoustics of Teatro Colón are so good as to place it as one of the best concert venues in the world. Almost too good, in fact: Pavarotti is reported to have once said that "its acoustics are perfect! Imagine what this signifies for the singer: if one sings something bad, one notices immediately." Inside the building can be found imported marble of various kinds — black marble from Belgium, white marble from Carrara and others from Verona and Portugal — Venetian mosaics, beautiful stained glass and private boxes whose walls are upholstered in genuine silk. Lavish and impeccably crafted, it's no wonder the Colón is one of the most famous buildings in Latin America.