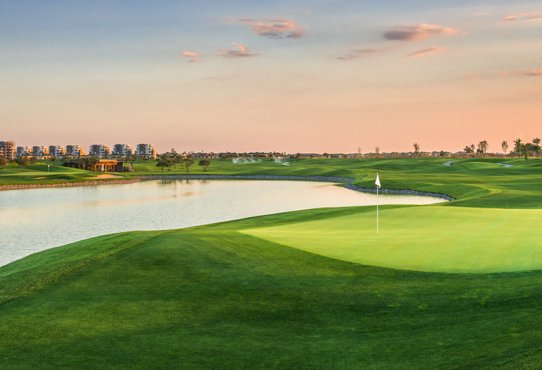 The words 'golf' and 'Baku' don't often appear in the same sentence, but that's about to change: the capital of Azerbaijan's first golf club, Dreamland Golf Club, has just introduced Baku to the world as an ultimate golf destination.
Dreamland Golf Club's premium 18-hole par 72 course has made an impressive impact since it was revealed to the world in October 2015 by golf legend Colin Montgomerie. The opening, launched by President of Azerbaijani H.E. Ilham Aliyev, drew global media coverage from Golfing World and Transworld Sport among others. The course is already receiving international visitors from neighbouring Russia, Kazakhstan and Turkey and proving popular among golfing expats from talented juniors to seasoned players.
The 66-hectare course is a Cynthia Dye championship masterpiece featuring 10 lakes, 125 bunkers and more than 300 native olive trees. The tapered fairways, course hazards and multiple tees have been carefully designed to balance challenge and accessibility and caters to all players from beginner to elite-level. Located close to the Caspian Sea, prevailing winds provide unique and varied conditions, challenging new and experienced golfers each time they step on the course.
Baku itself lies within easy reach in Eurasia, just a five-hour flight from the UK and less than a three-hour flight from Dubai, Istanbul or Moscow. Here, a blend of 12th century UNESCO-listed ancient city sites and fashion powerhouses and skyscrapers, such as the iconic Flame Tower provide an exciting, ultra-luxury lifestyle, of which Dreamland Golf Club is a new major component.
The club is world-class standard throughout and positioned to become a go-to destination for international tournaments, aspiring national players and discerning golf travellers. Backed by management agency IMG – which owns, manages or operates over 30 of the world's leading golf courses – the Academy features two IMG performance studios with leading tuition software including SAM PuttLab and FlightScope launch monitor, to combine top-level innovation with the highest standards of PGA professional tuition. The popular double-tiered driving range, fun Splash Zone and unique 9-hole par 3 course are special touches that make Dreamland an advanced, modern home of golf for the club's members and guests to enjoy.
In a country where golf is in its infancy, Dreamland Golf Club is working with the Azerbaijan Golf Federation to spread local awareness of the great game and access to play. Together, through a programme of country-wide school initiatives, they aim to encourage and develop a national golf star to represent the country in open championships – a joint mission to bring the game of golf to the 'Land of Fire'.
Speaking about the resort on his visit, Colin Montgomerie said: "As the first golf club in Baku, the impact that Dreamland Golf Club will have on the golfing landscape of the country is unprecedented. Not only will the course raise awareness of the game to the locals but the fantastic facilities will help those who want to improve or take up the sport."
For those wishing to visit for business or leisure, Dreamland Golf Club has partnered with the exquisite Fairmont Baku, Flame Towers offering exclusive stay and play deals. Situated close to downtown Baku's vibrant shopping scene and cypress-lined boulevard, the iconic hotel is equipped with health club, spa by ESPA, exquisite dining and fabulous views – so a memorable experience awaits for all, even if you don't play golf.
Further information
www.dreamlandgolfclub.com